Office Administration Technology Student Receives "Council of the Federation Literacy Award"
Krista Stephens is an Office Administration Technology student at our Kenmount Road campus. She maintains an excellent academic record and consistently receives positive feedback about her work ethic and dedication to her studies.
On September 8, 2022, Premier Andrew Furey and Education Minister John Haggie presented her with the 2022 "Council of the Federation Literacy Award" for Newfoundland and Labrador at the Confederation Building.
The Council of the Federation Literacy Award was created in 2004 to celebrate adult learners who undertake literacy training, as well as the valuable contributions made by Canadians in the field of literacy, including family, Indigenous, health, workplace, and community literacy. The Award is presented to learners, educators, volunteers, community organizations, and businesses in each province and territory.
Krista shared the message, "I'd like everyone to know that no matter how old you are, how many obstacles you face, or how difficult life's circumstances may be, it is never too late to go back to school. I hope others are inspired to follow their goals."
From the Honourable Andrew Furey, Premier of Newfoundland and Labrador:
"On behalf of the people of Newfoundland and Labrador, it is my pleasure to congratulate Krista Stephens on receiving the 2022 Council of the Federation Literacy Award. Ms. Stephens' drive to achieve her personal goals is an inspiration to all Newfoundlanders and Labradorians. She is truly deserving of this recognition."
The "Academy Canada Nation" are so proud of you Krista! Your story will undoubtedly inspire others to reach their goals. Keep up the great work.
For more about Krista's story and International Literacy Day, visit: http://ow.ly/niuf50KF1E4.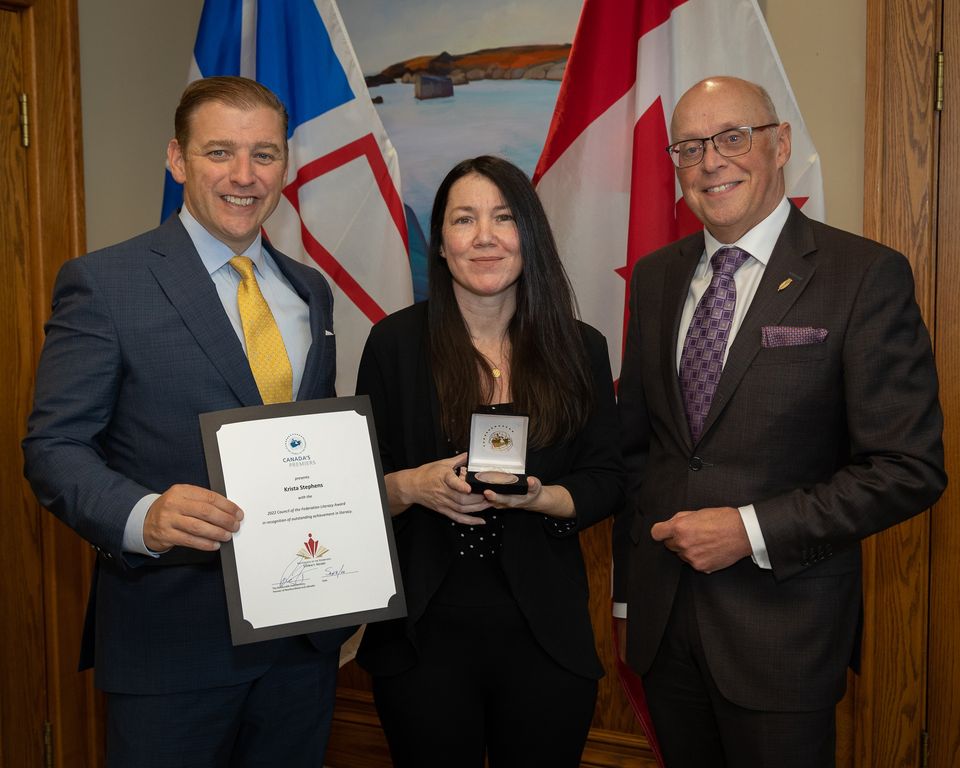 Newfoundland and Labrador Premier, Andrew Furey (left), and Education Minister, Dr. John Haggie (left), present Krista Stephens with a "Council of the Federation Literacy Award".