College Events & Key Dates
So Much More Than Textbooks!
At Academy Canada we believe that college life is about more than books and lectures! It should be an opportunity to reinvent yourself, explore new things and meet interesting people…all while getting a quality education.
Our family (lovingly called AC Nation") works hard every year to find new ways to make your experience enjoyable. Whether you are looking for volunteer opportunities, athletic competition, social events or a way to pamper yourself, we've got activities that are sure to please.
Social Life
Our monthly on-campus socials and group outings are excellent opportunities to make new friends and have a ton of fun. We're sure you'll enjoy our activities for September Orientation, Halloween party, Christmas Talent Show, Winter Blah Busters, Valentine's Day, St. Paddy's Day and summer celebrations. If you have an idea for a new event we'd love to help you organize it!
Volunteerism:
Over the last 30 years Academy Canada students and staff have volunteered more than three million hours with worthwhile community groups! They support amazing sports groups, community agencies and medical causes. We strongly support their spirit of giving and the difference it makes in the lives of others. Not only is it a great resume builder…it feels great! We'd be happy to help you find a cause that matches your passion.
Exposure to new ideas:
The college routinely welcomes guest lecturers to speak to classes on a wide range of topics related to their field of training, the world of work or life in general.
Pampering:
You work hard and deserve a break every once in a while. Don't be afraid to take them. Several of our campuses offer free or virtually free weekly Client Day services to students to help them beat the stress. For example, you can get a haircut, coloring, braids or foils, scalp treatment, waxing, manicure/pedicure, electrolysis, make-up, facials, body wraps, LCN nails, or a massage…right on campus!
We can even give your cat or dog a special day out at our Animal Grooming Clinic. No other school can offer you those services!
Athletics:
The college regularly hosts ball-hockey, softball, darts or other tournaments to help get the competitive sports flowing.
Great Food:
Several of our campuses have cafeterias with catering services. At our Harding Road campus, for example, our in-house Chefs prepare daily specials that will make your mouth water.
Pet Therapy:
Don't be surprised if you regularly see amazing cats and dogs around campus. Our Animal Grooming and Veterinary Assistant programs welcome them to class all the time and they are always a highlight.
Picture It:
Our Photographic Studies class is always looking for photo shoot models. Don't be surprised if they pick you out of the crowd and ask to capture your beauty/handsomeness.
Key Dates 2020-2021 and 2021-2022
January 07, 2022
-
Term 3 Begins
February 14, 2022
-
Staff Professional Development Day (No Classes For St. John's Campuses)
February 21, 2022
-
Winter Carnival Day (No Classes for Corner Brook Campus)
February 25, 2022
-
Term 3 Ends
April 14, 2022
-
Staff Professional Development Day (No Classes For Corner Brook Campus)
April 15, 2022
-
Spring Break Begins (also known as Easter Break)
April 22, 2022
-
Spring Break Ends (also known as Easter Break)
April 29, 2022
-
Term 4 Ends
May 02, 2022
-
Term 5 Begins
May 12, 2022
-
Convocation Day (St. John's Campuses – No Classes)
May 13, 2022
-
Staff Professional Development Day (No Classes For St. John's Campuses)
May 23, 2022
-
Victoria Day (No Classes)
June 17, 2022
-
Term 5 Ends
June 17, 2022
-
Convocation Day (Corner Brook Campus – No Classes)
June 20, 2022
-
Term 6 Begins
June 30, 2022
-
Staff Professional Development Day (No Classes For Corner Brook Campus)
July 01, 2022
-
Canada Day (No Classes)
August 09, 2022
-
Term 6 Ends
August 10, 2022
-
Summer Break Begins
September 06, 2022
-
Summer Break Ends
Notes: Adult Basic Education classes for the 2021-2022 College Year begins on September 1, 2021.
Classes begin for other students on September 7, 2021.
If Regatta Day is postponed due to inclement weather, St. John's campuses will still observe this holiday on the first Wednesday of August.
Mandatory Face Mask Advisory
Effective August 24, 2020, Academy Canada students, staff, and instructors must wear a non-medical face mask while inside the building to conform with Newfoundland and Labrador Public Health regulations.
However, if you're in a seated area, such as a classroom, or have a medical exemption, you have an option to take off your face mask.
When in doubt, wear a face mask.
Please be advised to wearing a non medical mask is no substitution for physical distancing, so please remain two metres apart from another person.
For more information about Newfoundland and Labrador's "Non-Medical Mask (NMM) Use in Indoor Public Spaces" regulations, please visit the Government of Newfoundland and Labrador's COVID-19 "Non-Medical Mask (NMM) Use in Indoor Public Spaces" page at https://www.gov.nl.ca/covid-19/non-medical-masks-use-in-public/.
COVID-19 Vaccination Advisory
Newfoundland and Labrador Chief Medical Officer of Health, Dr. Janice Fitzgerald, wishes to remind anyone aged 12 or older looking to book an appointment for the COVID-19 vaccine to get it done.
You can book your appointment at http://gov.nl.ca/covid-19/vaccine.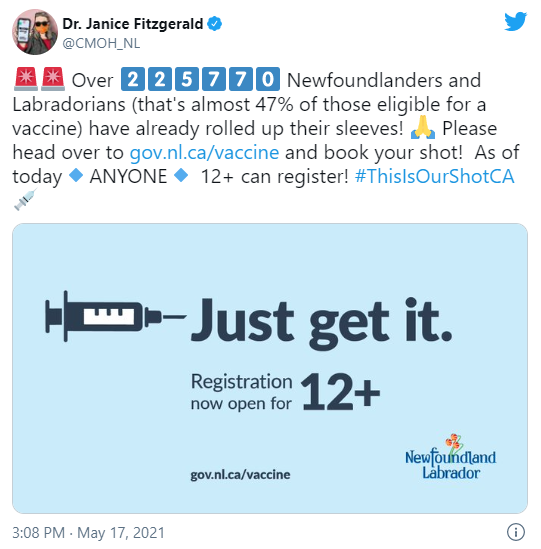 Congratulations "Class of 2021"
As you approach the final stretch of your last year in secondary school, we would like to give you our best wishes. You should be very proud of yourselves and your accomplishments!
We have a special message for this year's graduates. Featured in this message are Tony Stack (Newfoundland and Labrador English School District), Deborah Guest (NL Association of Career Colleges and Eastern Academy), and Krista Kelly-Cox (BAC Masonry College).
To all the newly graduated students joining us this Fall, we can't wait to meet you.
Happy "Pride Month"
June is "Pride Month", a celebration to show everyone that love is universal regardless of sexual orientation or gender identity.
As part of celebrating "Pride Month", the Corner Brook Campus displayed an Academy Canada sign in rainbow colours.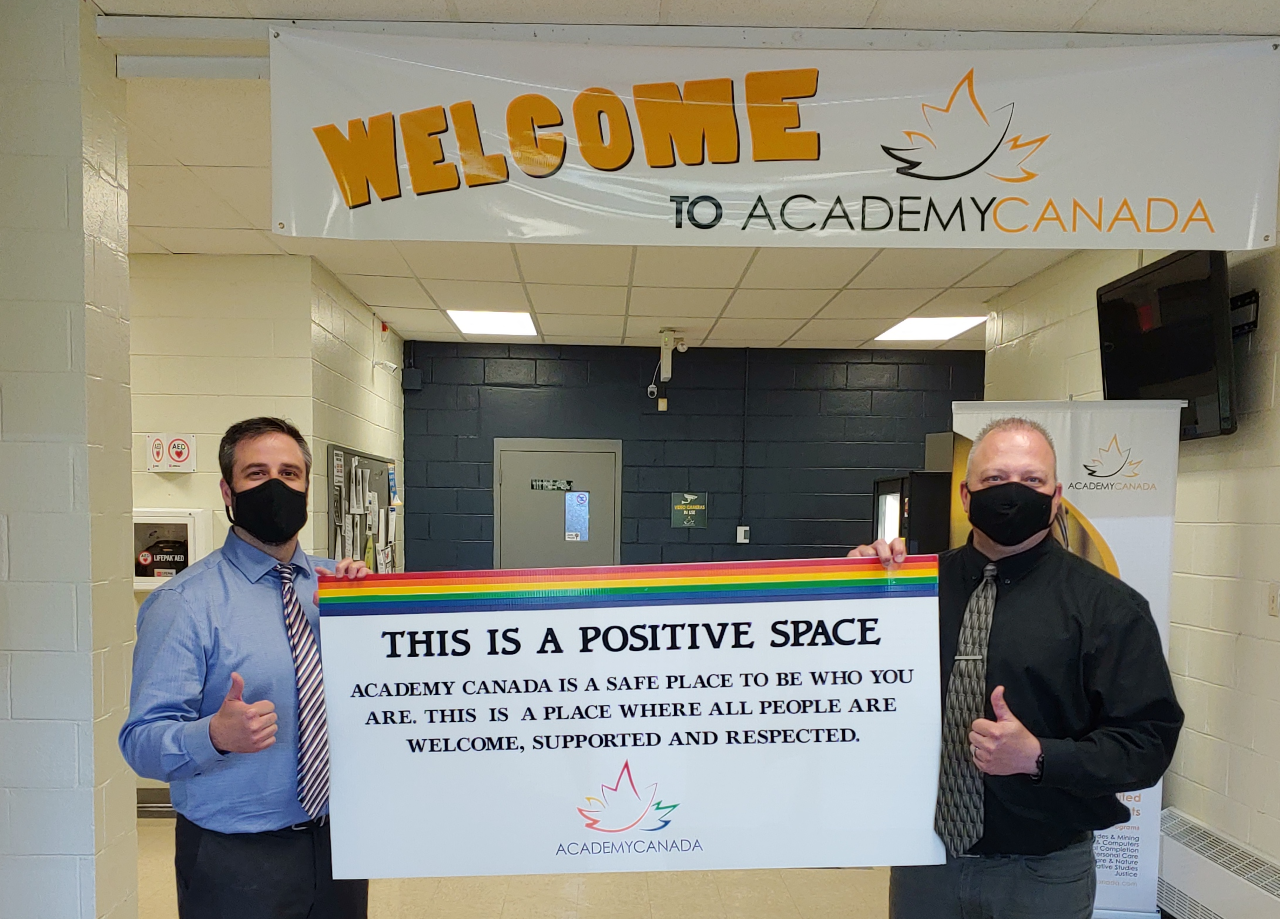 Corner Brook Campus administrators, Steve LeDrew (Vice Principal, left) and Colin Burridge (Principal, right), proudly display a sign to let the Academy Canada nation know that we are an inclusive college.
School Swag
Academy Canada students are a proud bunch! To help them show off their pride the college has partnered with Headline Promotions to offer school clothing through our Online Apparel Store. Students, staff and graduates can order school jackets, hats, sweatshirts, pants and other swag by clicking here.
AC Classifieds
Academy Canada and Eastern Academy have partnered to create a Facebook page called "AC/EA Classifieds." It allows students and the public to advertise and trade college related items such as:
Accommodations
Items Available (must be course related)
Transportation Arrangements
Used Books
IMPORTANT DISCLAIMER: This Facebook page is provided for the use of students and service providers. The quality/reliability/price of services, products, vendors or consumers making offers here are not reviewed by either Academy Canada or Eastern Academy. We accept no responsibility for arrangements made through this page and encourage participants to use their own discretion. The Administrator of this page reserves the right to delete any inappropriate posts.
ABE On The Spot
Throughout the College Year, from September to June, Academy Canada releases a monthly e-newsletter entitled "ABE On The Spot".
"ABE On The Spot" highlights the events, activities, achievements, and other milestones from our Adult Basic Education (ABE) students, staff, and instructor at each "ABE Learning Centre" each month.
Click a link below to view an "ABE On The Spot" e-newsletter for a specific month.
Corona Virus (COVID-19) Prevention and Protection
About Corona Viruses
Human corona viruses cause infections of the nose, throat and lungs. They are most commonly spread from an infected person through:
Respiratory droplets generated when you cough or sneeze
Close, prolonged personal contact, such as touching or shaking hands
Touching something with the virus on it, then touching your mouth, nose or eyes before washing your hands
Current evidence suggests person-to-person spread is efficient when there is close contact.
Preventing Corona Viruses
At this time, there is no vaccine for COVID-19 or any natural health products that are authorized to protect against it.
If you have travelled to Hubei province, China, or Iran in the last 14 days, limit your contact with others for 14 days, starting the day you began your journey to Canada. This means self-isolate and stay at home. Contact the public health authority in your province or territory within 24 hours of arriving in Canada for advice.
If you have COVID-19, reduce contact with others
If you are sick, the following steps will help to reduce contact with others:
Stay at home and self-isolate (unless directed to seek medical care)
If you must leave your home, wear a mask or cover your mouth and nose with tissues, and maintain a 2-metre distance from others
Avoid individuals in hospitals and long-term care centres, especially older adults and those with chronic conditions or compromised immune systems:

Avoid having visitors to your home
Cover your mouth and nose with your arm when coughing and sneezing
Have supplies delivered to your home instead of running errands. Supplies should be dropped off outside to ensure a 2-metre distance
Being Prepared
It is important to know how you can prepare in case you or a family member become ill.
Hygiene
Proper hygiene can help reduce the risk of infection or spreading infection to others:
Wash your hands often with soap and water for at least 20 seconds, especially after using the washroom and when preparing food

Use alcohol-based hand sanitizer if soap and water are not available

When coughing or sneezing:

Cough or sneeze into a tissue or the bend of your arm, not your hand
Dispose of any tissues you have used as soon as possible in a lined waste basket and wash your hands afterwards

Avoid touching your eyes, nose, or mouth with unwashed hands
Clean the following high-touch surfaces frequently with regular household cleaners or diluted bleach (1 part bleach to 9 parts water):

Toys
Toilets
Phones
Electronics
Door Handles
Bedside Tables
Television Remotes
Wearing masks
If you are a healthy individual, the use of a mask is not recommended for preventing the spread of COVID-19.
Wearing a mask when you are not ill may give a false sense of security. There is a potential risk of infection with improper mask use and disposal. They also need to be changed frequently.
However, your health care provider may recommend you wear a mask if you are experiencing symptoms of COVID-19 while you are seeking or waiting for care. In this instance, masks are an appropriate part of infection prevention and control measures. The mask acts as a barrier and helps stop the tiny droplets from spreading you when you cough or sneeze.
Risk of Getting Corona Viruses
At this time, the Public Health Agency of Canada (PHAC) has assessed the public health risk associated with COVID-19 as low for the general population in Canada but this could change rapidly. There is an increased risk of more severe outcomes for Canadians:
Aged 65 and over
With compromised immune systems
With underlying medical conditions
While a COVID-19 outbreak is not unexpected in Canada, our public health system is prepared to respond. PHAC, along with provincial, territorial and community partners, continues to reassess the public health risk, based on the best available evidence as the situation evolves.
The risk to Canadian travellers abroad will vary depending on the destination, as well as the person's age and health status. There are some destinations where the Government of Canada recommends avoiding all travel or all non-essential travel. Check the latest travel health notices often before travelling.
As well, the risk for COVID-19 may be increased for certain settings such as:
Cruise ships
heavily affected areas
international conferences and other large gatherings in enclosed spaces
It is important for all travellers to:
Self-monitor for symptoms of COVID-19 (fever, cough or difficulty breathing) for 14 days after returning to Canada
Avoid places where you cannot easily separate yourself from others if you become ill
If you have even mild symptoms, stay home and call the public health authority in the province or territory you are in to inform them. They will provide advice on what you should do.
We will continue to adapt our risk assessment based on the latest data available.
Products Shipped from China
Corona viruses generally do not survive on surfaces after being contaminated. The risk of spread from products shipped over a period of days or weeks at room temperature is very low.
There is no known risk of corona viruses entering Canada on parcels or packages coming from affected regions in China.
Animal-to-human infection in Canada
There is currently no evidence to suggest that this virus is circulating in animals in Canada. It is possible that some types of animals may be able to get infected with COVID-19, but it is not yet clear whether they would show symptoms.
There are still many unknowns about COVID-19 and this is an area that remains to be studied and understood.
Until we know more, if you have been diagnosed with COVID-19 and have a pet or other animal:
Avoid close contact with them

Do not snuggle or kiss them, or let them lick you, sit on your lap, or sleep in your bed

Avoid coughing and sneezing on your animals
Have another member of your household care for your animals

if this is not possible, always wash your hands before touching or feeding them

Limit your animal's contact with other people and animals

This may mean keeping them indoors
These recommendations will be updated as more information becomes available.
Animal-to-human infection in other countries
The current spread and growth of the COVID-19 outbreak is mainly associated with transmission from person to person. However, experts agree that the virus likely originated from bats and may have passed through another animal source (currently unknown) in China before being transmitted to humans.
It is recommended that individuals who travel to an affected country or region avoid contact with animals and animal products. This includes wild meat and markets that sell fresh meat, fish, produce and other perishable goods.
If you are considering travel, check the latest travel health notices for the most up-to-date travel advice prior to travelling.
Source: Health Canada "Coronavirus disease (COVID-19): Prevention and risks" – https://www.canada.ca/en/public-health/services/diseases/2019-novel-coronavirus-infection/prevention-risks.html
Are you thinking about a career in graphic design? According to Multimedia Graphic Design instructor, Kyle McDavid, the sky is the limit. If you're a technical minded, creative, and tech-savvy person with…
Read More