College Events & Key Dates
So Much More Than Textbooks!
At Academy Canada we believe that college life is about more than books and lectures! It should be an opportunity to reinvent yourself, explore new things and meet interesting people…all while getting a quality education.
Our family (lovingly called AC Nation") works hard every year to find new ways to make your experience enjoyable. Whether you are looking for volunteer opportunities, athletic competition, social events or a way to pamper yourself, we've got activities that are sure to please.
Social Life
Our on-campus socials and group outings are excellent opportunities to make new friends and have a ton of fun. We're sure you'll enjoy our activities for September Orientation, Halloween party, Christmas Talent Show, Winter Blah Busters, Valentine's Day, St. Paddy's Day and summer celebrations. If you have an idea for a new event we'd love to help you organize it!
Volunteerism:
Over the last 35+ years, Academy Canada students and staff have volunteered more than three million hours with worthwhile community groups! They support amazing sports groups, community agencies and medical causes. We strongly support their spirit of giving and the difference it makes in the lives of others. Not only is it a great resume builder…it feels great! We'd be happy to help you find a cause that matches your passion.
Exposure to new ideas:
The college routinely welcomes guest lecturers to speak to classes on a wide range of topics related to their field of training, the world of work or life in general.
Pampering:
You work hard and deserve a break every once in a while. Don't be afraid to take them. Several of our campuses offer free or very low-cost weekly Client Day services to students to help them beat the stress. For example, you can get a haircut, coloring, braids or foils, scalp treatment, waxing, manicure/pedicure, electrolysis, make-up, facials, body wraps, or a massage…right on campus!
We can even give your cat or dog a special day out at our Animal Grooming Clinic. No other school can offer you those services!
Great Food:
At our Harding Road campus, our in-house cooks prepare daily specials that will make your mouth water.
Pet Therapy:
Don't be surprised if you regularly see amazing cats and dogs around campus. Our Animal Grooming and Veterinary Assistant programs welcome them to class all the time and they are always a highlight.
2022-2023 and 2023-2024 Key Dates
December 22, 2023
-
Term 2 Ends
December 25, 2023
-
Christmas Break Begins
January 05, 2024
-
Christmas Break Ends
January 08, 2024
-
Term 3 Begins
February 19, 2024
-
Corner Brook Winter Carnival Day (No Classes for Corner Brook Campus)
February 19, 2024
-
Staff Professional Development Day (No Classes for St. John's Campuses)
February 23, 2024
-
Term 3 Ends
February 26, 2024
-
Term 4 Begins
March 28, 2024
-
Staff Professional Development Day (No Classes for Corner Brook Campus)
March 29, 2024
-
Easter Break Begins
April 05, 2024
-
Easter Break Ends
April 26, 2024
-
Term 4 Ends
April 29, 2024
-
Term 5 Begins
May 16, 2024
-
Convocation Day (St. John's Campuses)
May 17, 2024
-
Staff Professional Development Day (No Classes for St. John's Campuses)
May 20, 2024
-
Victoria Day (No Classes)
June 14, 2024
-
Term 5 Ends
June 17, 2024
-
Term 6 Begins
July 01, 2024
-
Canada Day (No Classes)
July 02, 2024
-
Staff Professional Development Day (No Classes for Corner Brook Campus)
August 07, 2024
-
Regatta Day (No Classes)
August 07, 2024
-
Term 6 Ends
August 08, 2024
-
Summer Break Begins
September 03, 2024
-
Summer Break Ends
Note: Since Remembrance Day lands on a Saturday in 2023, the holiday will be observed on Monday, November 13, 2023.
High School Transcripts Reminder
Academy Canada wishes to remind all high school graduates that transcripts are now available.
Transcripts are now available through the Government of Newfoundland and Labrador's Powerschool Portal at https://nlsis.powerschool.com/public/home.html
If you're starting a program with us this fall, don't forget to send us your transcript for your application as soon as possible!
AC/EA Classifieds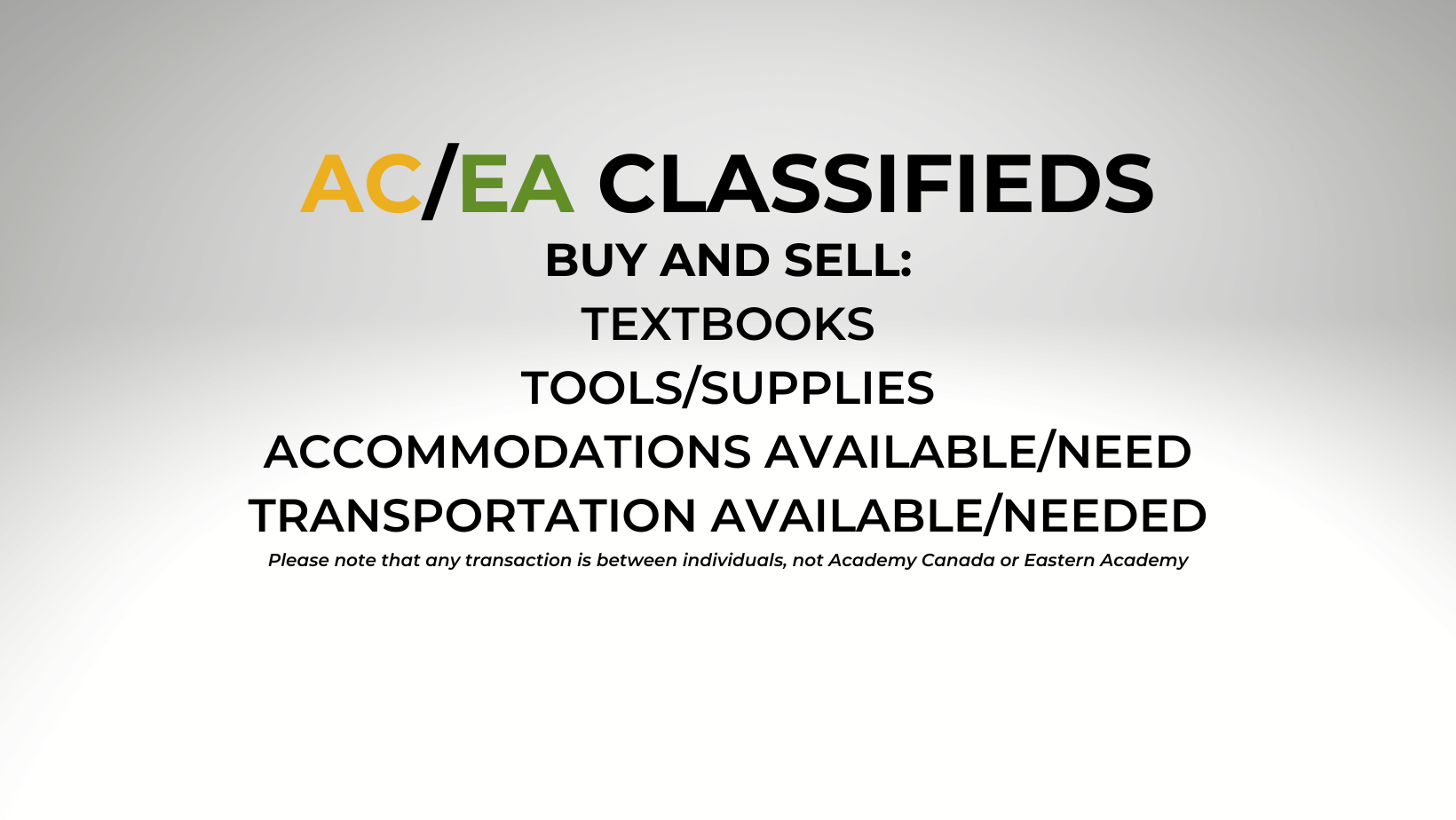 Academy Canada and Eastern Academy have partnered to create a Facebook page called "AC/EA Classifieds." It allows students and the public to advertise and trade college related items such as:
Accommodations
Items Available (must be course related)
Transportation Arrangements
Used Books
IMPORTANT DISCLAIMER: This Facebook page is provided for the use of students and service providers. The quality/reliability/price of services, products, vendors or consumers making offers here are not reviewed by either Academy Canada or Eastern Academy. We accept no responsibility for arrangements made through this page and encourage participants to use their own discretion. The Administrator of this page reserves the right to delete any inappropriate posts.
ABE Student Spotlights
Graduate Spotlights
Erica graduated with a Diploma of Applied Arts (Veterinary Assistant) in the class of 2015.
Here's what she has to say about her career: "I graduated from the VAR program in 2015, and I just wanted to share I have been working my dream job in a veterinary clinic since! Since graduation, I have worked in multiple clinics, including outside the province and have worked with thousands of different pets. I feel honored to be able to help people and their pets and I couldn't ask for a better line of work. Thank you for helping me achieve my dream job!"
Thanks to Erica for sharing!
We are so proud to be part of your journey.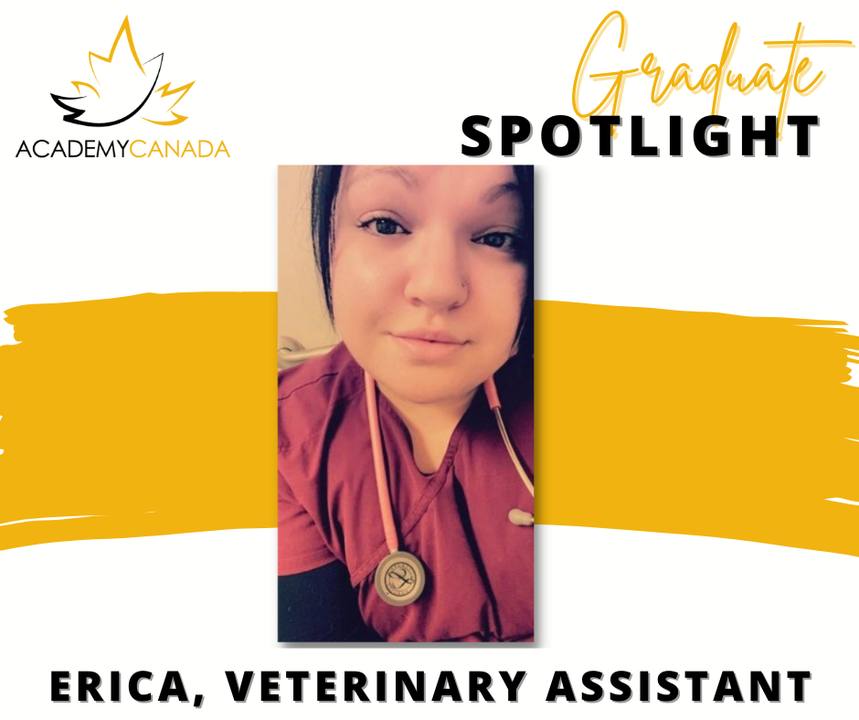 Posted November 5, 2023 Academy Canada are pleased to announce that we won the Newfoundland and Labrador Construction Association's (NLCA) "Professional Service Award of Excellence". These awards were given during the NLCA's…
Read More