Hiring a Work Term Student or Grad
Employers, are you interested in hosting a work term placement?
The work term portion of Academy Canada's curriculum is extremely important to the on-going development of our students. We are very grateful for the support of the business community and their efforts to continue education within the workplace, as we strive to train highly qualified, enthusiastic professionals.
While most placements are 4-6 weeks in duration, some are as long as 8 weeks, depending on the program requirements. When an employer is interested in hosting a work term, the Employment Specialist will provide details regarding the duration and a description of courses completed within that particular program. This will give the employer an idea of the knowledge and skills each student will have when starting their work term placement.
During the work term placement, the student will be assigned duties and tasks relevant to their area of instruction and training. Qualified staff from the host organization will monitor and supervise the student while completing duties, providing direction and evaluating the student's progress and level of knowledge.
Academy Canada does not require that its work term be paid. While some organizations do pay their students a stipend (this is permissible), we believe that the experience gained by the student is far more valuable than a financial remuneration.
If there are challenges during the work term placement, we encourage open dialogue between the student and their host however, if this attempt fails and not effective in resolving the issue, then the Employment Specialist will be available to provide assistance.
Thinking about hiring a new graduate?
New grads are full of energy and eager to continue their learning. They may need a little more guidance and support to get them comfortable within their new role, but they are excited to show their newly learned skills in the "real world".
A new grad is a major benefit to any business. They have the most up to date techniques and knowledge available to industry. They also bring a fresh point of view and can be molded to company practices easily. No matter who you hire, there will always be a learning curve, therefore why not hire a new grad with the most recent skills and training available?
As many companies are preparing for the retirement of the Baby Boomers they are implementing succession planning strategies. With that said, hiring new graduates maybe a perfect fit for your organization. By recognizing the potential of new graduates and the opportunity for them to be mentored by senior staff, this would be a huge advantage and a win-win for any business. Furthermore, as senior staff retire and new graduates are hired, the expense of compensation and benefits will be lowered to a more manageable amount allowing the business to profit more or to reallocate funds to other areas.
The topping on the cake, is that there are government grants available for businesses to hire new graduates! This means all the benefits outlined above for no extra cost. The Canadian federal and provincial governments have released several job hiring grants specifically aimed at bringing new graduate students onto business' like yours.
Check out this link to find out more https://www.canada.ca/en/services/benefits/education/graduate.html
Student Spotlight
Multimedia Graphic Design – Ann Norris
Ann is a Multimedia Graphic Design studentat our Kenmount Road campus.
Multimedia Graphic Design students are excelling in their work and have consistently received strong feedback from their instructor about their work ethic, attitude, and understanding program concepts.
We wanted to feature some of Ann's work (just check out the images in this post!) and asking them some questions about their field.
Question: What do you like most about your field?
Answer: What I love about this field is how diverse the work is and how I can always be learning new things.
Question: What is your favorite type of work to create?
Answer: My favourite type of work to be doing are Album Covers, Posters/Signs, or any type creative art.
Question: How can you be reached for more information about your work?
Answer: Ann can be reached by email at norris-designs@outlook.com.
Amazing work, Ann! Thanks for your contributions to your classroom and field.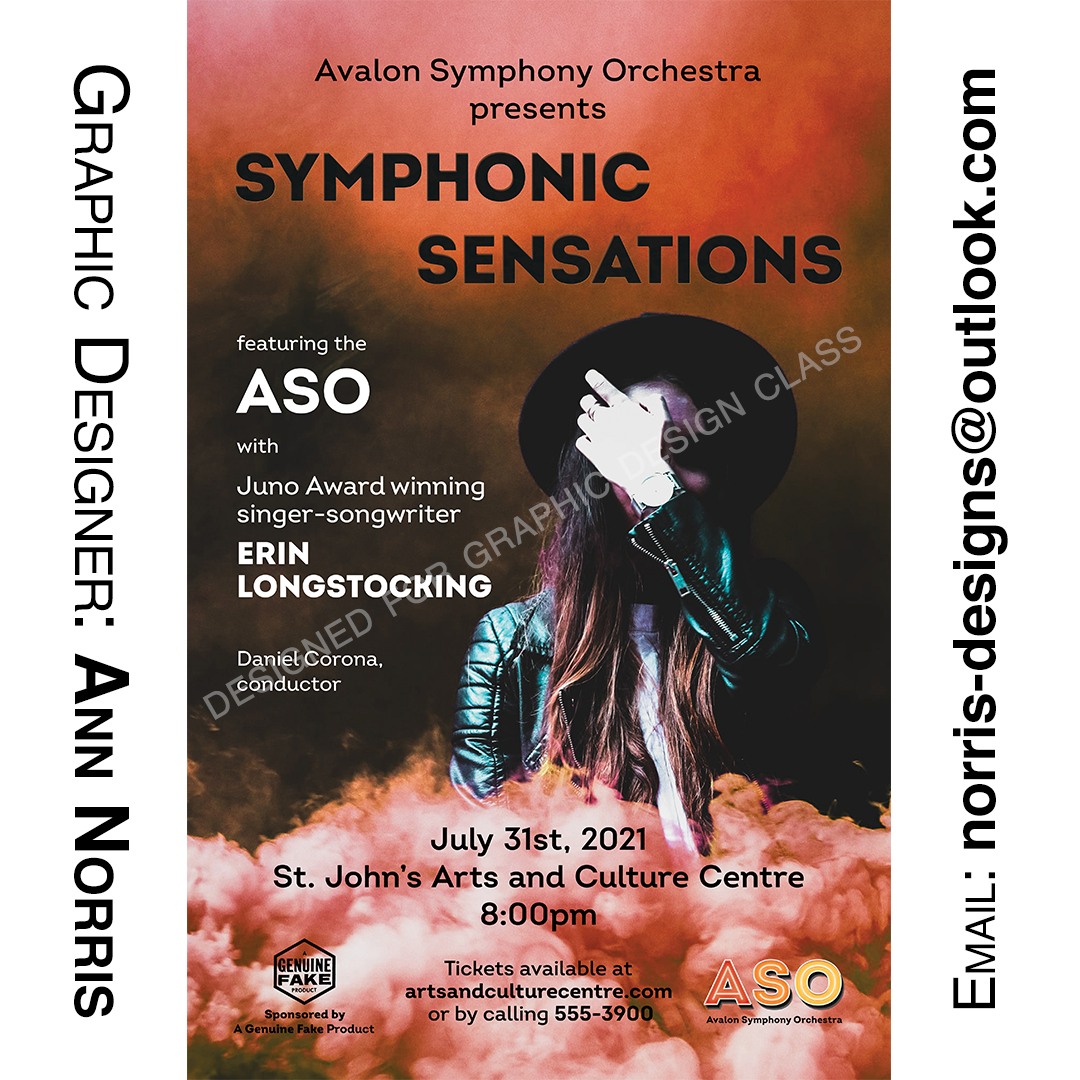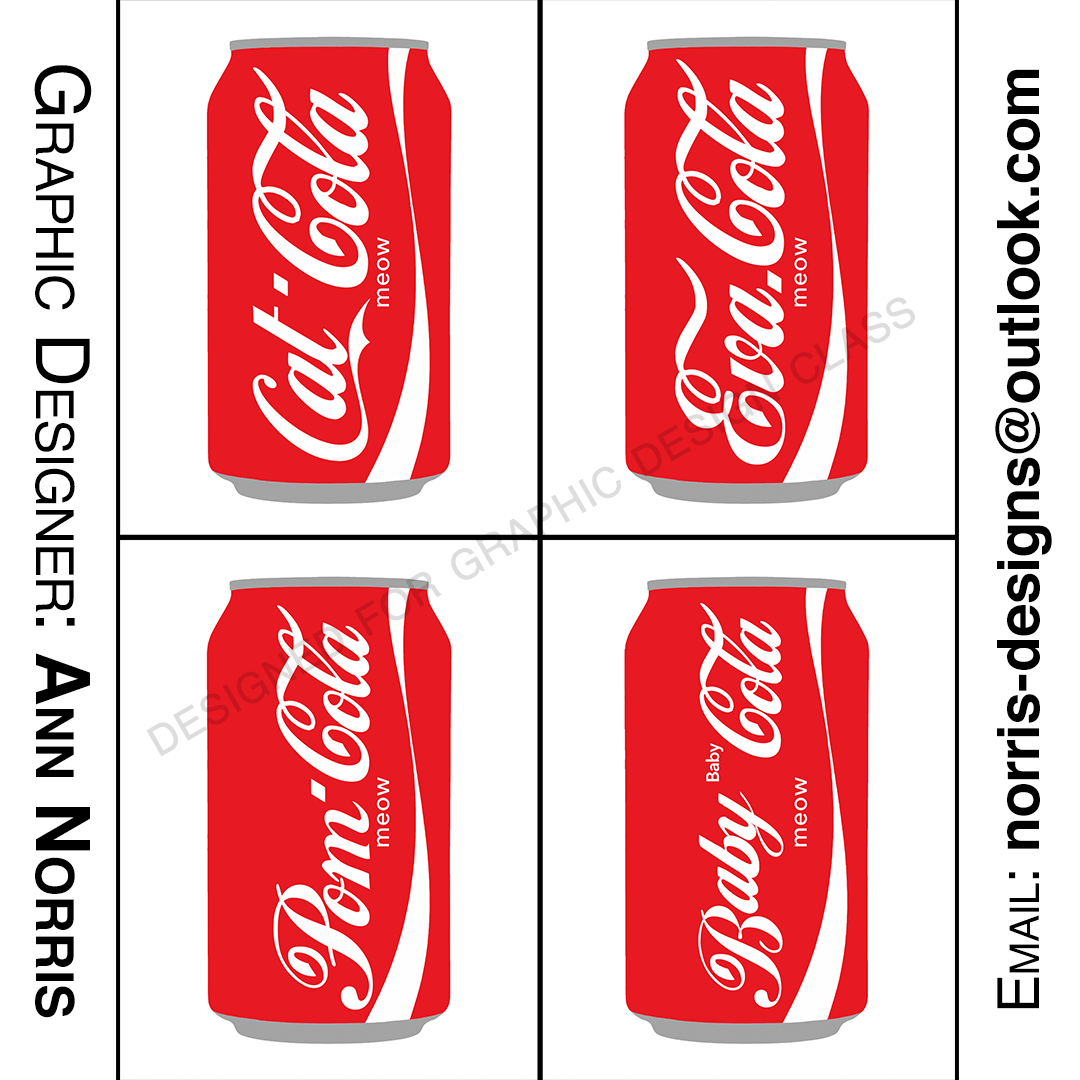 ---
Graduate Success List
| Program | Name | Company |
| --- | --- | --- |
| Animal Grooming Professional | Andrea Quinlan | Pet Central Limited |
| | Tiffany Rehel | Island Dog Spa |
| | Sarah Snow | Barks N Bubbles |
| Auto Body and Collision Technician | Isaiah R. | Bud's Auto Body |
| Automotive Service Technician | Joshua Bradbury | Capital Hyundai |
| | Samuel Whalen Chard | Mitsubishi Motors |
| | Curtis Cook | Avalon Ford |
| | Jesse House | Avalon Ford |
| | Chris King | Mistubishi Motors |
| | Trevor O'Brien | Avalon Ford |
| | Matt Powell | CBS Auto |
| | Shane P. | Mel's Auto Body Limited/td> |
| Business Administration | Sherry D. | Needs Convenience |
| | Tamara D. | Steers Insurance |
| | Debra Loke (Beck) | Day and Ross |
| | Shelby Penney | Larry Spurrell Tax Services |
| | Melissa Sarjoo | S. R. Stack and Company |
| | Denise Tucker | Memorial University |
| Carpenter | Norman B. | S & D Construction |
| | Noah C. | ICR Building Solutions |
| | Shane B. | Lizan Construction |
| Construction/Industrial Electrician | Camryn Smith | Electrotech Electrical Solutions |
| Criminology | Carter Fancey | Hope Valley Centre |
| | Robert Hogan | CATSA |
| | Necia Jacobs | Learn Star Educational Programs Inc. |
| | Chelsea Leroy | Momentum |
| | Serina McKinnon | Community Youth Network |
| | Sheri Skinner | Hope Valley Centre |
| | Pat Smith | The Sheriff's Office |
| | Rhonda Stone | The Tommy Sexton Centre |
| | Chelsea Allen Whittle | Choices For Youth |
| Esthetics and Spa Management | Emily Cashin | Silver Scissors |
| | Kristina P. | Silver Scissors and Emerald Spa |
| Esthetics and Spa Management with Electrolysis | Victoria Cashin | Silver Scissors |
| | Cherise Meaney | Soothe Spa |
| | Taylor M. | Silver Scissors and Emerald Spa |
| | Beth | Muscle Medix Massage and Corrective Exercise Centre |
| | Riana W. | Vitality Salon and Spa |
| Hairstylist | Sarah B. | Silver Scissors and Emerald Spa |
| | Rachel Bennett | Silver Scissors and Emerald Spa |
| | Alyssa H. | Silver Scissors and Emerald Spa |
| | Emily H. | Shear Cuts |
| | Laura H. | Silver Scissors and Emerald Spa |
| | Mackensie Hamshire | Magicuts |
| | Neely Lewis | Chatters |
| | Taylor Mullin | First Choice Hair Cutters |
| | Tenille Park | Chatters |
| | Sarah Patey | Vitality |
| | Emma Peckford | Image Salon |
| | Keisha Wicks | Silver Scissors and Emerald Spa |
| Law Enforcement Foundations | Karly Estabrooks | Department of Works and Services |
| | Steve Gruchy | Department of Works and Services |
| | Brian Melee | Key Assets |
| | Matthew Peddle | MUN (Campus Enforcement) |
| Massage Therapy | Kara B. | Rock Physiotherapy and Wellness |
| Nail Technician | Alyssa LeTourneau | Dream Nails |
| | Chelsea L. | Chatters |
| | Laura P. | Silver Scissors and Emerald Spa |
| Occupational Health and Safety | Mike Edmunds | Air Canada |
| | David Gbegbin | Johnson's Construction |
| | Hope M. | Department of Fisheries, Forestry and Agriculture |
| Office Administration Technology | Deicha M. | Penney and Brown Limited |
| | Maggie O'Reilly | Capital Mitsubishi |
| | Stephanie Osmond | Memorial University |
| | Krista Power | Qalipu First Nation |
| | Victoria S. | Western Health |
| | Samantha Whalen | Nalcor Energy |
| | Penny Y. | Newfoundland and Labrador Legal Aid Commission |
| Paralegal Studies | Amanda Ash | Cavanagh Financial |
| | Courtney Au | Rogers Rogers Moyse |
| Personal Care Attendant | Sheri Skinner | Western Health |
| | Ashley Small | Western Health |
| | Shawna Stead | Momentum |
| Sheet Metal Worker | Amy H. | Cahill Group |
| | Adam K. | Cahill Group |
| | Matthew M. | Tin Man Inc. |
| | Brendon P. | ADG Mechanical Limited |
| | Ryan V. | Cahill Group |
| | Jonathan W. | Metal Specialties |
| Veterinary Assistant / Receptionist | Amber Granter | Paradise Animal Hospital & Wellness Centre |
| | Ariele McEwen | Humber Valley Vet Clinic |
| | Alicia McFarlane | Sunrise Animal Hospital |
| | Kelsey Payne | Animal Surgery & Wellness Centre |
| | Jessica W. | Paradise Animal Hospital |
| Welder | Amanda Campbell | Corner Brook Fabrication |
| | Jennifer Cox Bennett | Western Steel (Deer Lake) |
| | Jennifer Fudge | Western Steel |
| | Jordan Hinks | One Stop Welding |
| | Janine Ryan | DF Barnes |
| | Connor Seeley | C & W Industrial Fabrication |
| | Matthew Squires | DF Barnes |
| | Rex Taylor | Western Steel |
| | Justin Walsh | Johnson Construction |
Congratulations to the July Student of the Month at our Harding Road Campus, Tyler E! Tyler is enrolled in our Construction/Industrial Electrician program. He maintains perfect attendance and excellent grades in all…
Read More