Find the Right Job for You!
Job Postings
Adult Basic Education Teacher – Nain ABE Learning Centre
Posted July 6, 2020
Academy Canada is one of Atlantic Canada's strongest and fastest growing Career Colleges. With an annual enrollment of 1,200 students, 14 locations across Newfoundland/Labrador and 35 exciting career programs, we offer amazing opportunities for talented professionals.
Applications are now being accepted for an Adult Basic Education Teacher in Nain, Labrador to commence in September 2020.
The successful applicant must hold a Bachelor of Education degree and must have at least 6 courses in English, Math and/or Science. University transcripts must be submitted (electronic copies are acceptable).
Other desired qualifications include:
Strong written and oral skills
Outstanding interpersonal skills
Ability to organize work, set priorities, and meet set deadlines
Strong computer skills
Experience in distance education and online learning
Differentiated instruction and promoting an inclusive environment evidence
Building positive relationships with students, colleagues, community partners evidence
Experience teaching adult learners and teaching in a northern community would be an asset
Only those selected for an interview will be contacted. A resume, cover letter, university transcripts, certifications, references and other credentials should be send via email or fax to the following:
Jackie White
Business Development Manager
jwhite@academycanada.com
Fax: 709-637-2139
---
Corner Brook Campus – Medical Device Reprocessing Instructor
Posted February 3, 2020
The Instructor plays a vital role in the delivering Academy Canada's programs properly.
"Medical Device Reprocessing" Instructor Duties
The position includes the following duties, but not limited to:
Program preparation and delivery, including the course portfolio development and/or maintenance,s and proper teacher planner maintenance.
Complete all preparatory work exclusive of regular student contact hours.
Maintain student records/files according to College policy.
Conduct and record student evaluations, both academic and practical.
Properly maintain current student attendance records and report concerns to the Registrar.
Monitor student progress and ensure that campus administration (namely the Principal, Student Support Coordinator and Registrar) are made aware of any student concerns in a timely manner. This may include accommodating special requests for students with identified learning disabilities.
Properly manage student grades.
Attend scheduled staff meetings, faculty meetings, and instructor in-service training sessions. Please note that these meetings may be held outside of regularly scheduled hours.
Maintain a professional demeanour at all times.
"Medical Device Reprocessing Instructor" Requirements:
Medical Device Reprocessing Technician who has graduated from a recognized college with 6 years combined education and professional experience.
A desire to work in a team environment.
Instructional experience an asset.
Certification as an MDRT an asset.
This position reports to the Principal and Vice Principal.
This is a full time, permanent position.
Resumes may be submitted to Colin Burridge, Principal at cburridge@academycanada.com.
---
Empower NL – Business Development Coordinator (Take Two)
Posted August 13, 2020
Empower, The Disability Resource Centre, is an organization committed to providing supports, resources, and opportunities for empowerment, which enable persons with disabilities to make informed choices about their lives. At Empower, we break down barriers every day. Barriers to access. To knowledge. To choices. Anyone with a disability can use our services, free of charge. Empower is a vital part of our community, and the need for our services is growing.
Empower is seeking a Business Development Coordinator to spearhead the growth of our social enterprise Take Two. The Business Development Coordinator is responsible for leading the development, management and promotion of Take Two in line with the vision and mission of Empower, The Disability Resource Centre.
Reporting to the Executive Director, the Coordinator will lead Empower's Social Enterprise efforts and work with others to develop and implement a work plan seeing the social enterprise re-established in another location.
"Business Development Coordinator" Responsibilities
Develop and implement a work plan and budget establishing a new location for Take Two
Develop a Business Plan with strong marketing efforts
Maintain and develop collaborative team working and external partnerships to enhance the work of Empower and develop good practices.
"Business Development Coordinator" Duties
Inventory – oversee the sourcing, while ensuring standards are met
Personnel – oversee the recruiting, training, scheduling and supervising part-time staff and volunteers
Finance – oversee, maintain and report on all aspects of the financial management of the social enterprise
Marketing and Public Relations – develop, implement and evaluate annual/seasonal marketing strategy that maintains current clientele while developing new audiences
Customer Service – ensure a high level of customer service
"Business Development Coordinator" Requirements
Relevant university or college degree or diploma (Business Administration) or a minimum of five years of experience in the retail or management field.
Knowledge and experience of working in a non-profit organization beneficial.
Ability to work independently
Ability to supervise, plan, organize and control details.
Must be decisive, have initiative, and be flexible with a strong service orientation, interpersonal sensitivity, and cheerful.
Delights in working as part of a team with demonstrated leadership skills
Social Enterprise experience an asset
This is a 6 month part-time contract to start in the fall and end in March (with the possibility of extension).
Salary: $20,000.
Please submit cover letter and resume to Kimberly@empowernl.ca with Take Two in subject line.
We thank all those that apply but only those chosen for an interview will be contacted.
---
Ches Penney Family YMCA – School Age Childcare Administrators (7 Part Time Positions)
Posted July 29, 2020
The YMCA has been part of life in Newfoundland and Labrador for over 160 years.
Our Health, Fitness and Aquatics, Children's Services, and Employment, Enterprise, and Newcomer Services core programs are offered at more than 20 locations in our communities with an additional 170 points of delivery throughout the province.
There are more than 120 staff and 100 volunteers.
The YMCA School Age Programs operate within various schools located in Torbay, Mount Pearl, Paradise and St. John's. Our school age administrators oversee all aspects of programming while working within a focused team environment.
The goal is to challenge and motivate children by creating a stimulating, safe and nurturing environment for them to learn and grow.
Support is provided to families while diligently adhering to the Child Care Services Regulations under the Child Care Services Act and YMCA policies and procedures.
We are seeking a candidate with the following skills and qualifications:
Early Childhood Education Diploma, Teaching Certificate, Child and Youth Diploma or Recreation degree/diploma
Experience and/or training in child development, children's programs, and youth recreation.
Professional Certification (entry level, 1,2,3,4 etc.)
Experience working in early learning and/or school age environments
In-depth knowledge and understanding of licensing policies and regulations
Experience in delivering direct programs in leadership or modelling service excellence in children's program delivery while demonstrating a thorough knowledge of best practices for children and families in accordance with the YMCA mission is an asset
Strong creative, organizational, and time management skills
Ability to maintain positive, ongoing working relationships with clients, within professional boundaries
Available to work part-time to full-time hours, depending on need for full day programming
Competent interpersonal skills combined with the ability to communicate effectively and efficiently
Standard First Aid and CPR (C)
Up to date Certificate of Conduct and Vulnerable Sector Check
What we offer:
A work environment which encompasses our core values of caring, honesty, respect, responsibility, and diversity
Family membership to YMCA facilities and discounts to YMCA programs
Opportunities for professional development
Please send cover letter and resume detailing qualifications to:
YMCA of Newfoundland and Labrador
Ches Penney Family YMCA
P.O. Box 21291
St. John's, NL A1A 5G6
Email: jobs@nl.ymca.ca
We thank all applicants for their interest, however only those selected for an interview will be contacted.
---
Massage Addict – Registered Massage Therapist (Part and Full Time Opportunities)
Posted July 27, 2020
BRAND NEW CLINIC located on 17 Elizabeth Avenue in the St. John's East end is looking to hire Registered Massage Therapists (RMTs) for full and part time hours. Join a rewarding, nurturing, and professional TEAM environment with a consistent schedule and income. Daytime, evening, and weekend opportunities available.
Our new location is centrally chosen with free parking and directly on the bus route. Our clinics are modern, professional, welcoming and convenient. Your clinic support team will focus on filling your schedule and providing all the in-clinic support you will need. The clinic support team takes care of fulltime reception coverage, supplies, billing and booking services. You'll have a steady flow of clients and the flexibility to make your own schedule. At our clinic, your focus is 100% on providing the very best treatment to your clients while earning an attractive, predictable income.
Benefits we offer
Immediate client base with loyal and valued clients
Flexible schedules to meet your work-life balance
Access to online booking system – see your schedule getting filled from your phone
Comprehensive and competitive compensation package – predictable bi-weekly income
Free and unlimited access to the CCMH/WCCMT online learning platform, http://www.ConEdCCMH.com, which has over 14 advanced courses and more being added!
Optional health-care benefits package
Allowance for professional development and training
We provide all supplies, PPE, billing and booking services as well as full-time reception coverage
Registration Assistance for New Graduates.
Your clinic responsibilities:
Performing high-quality treatments with complete focus on the client
Recommending treatment plans and home care
Maintaining accurate client records
Maintaining a strong collaborative working relationship with your colleagues.
Registered Massage Therapist Requirements
Applicants must be registered and a member in good standing with the College of Massage Therapists of Newfoundland and Labrador (CMTNL) and have liability insurance. New Grads Welcome!
If you are interested in working in a client focused team atmosphere, we would love to hear from you. Contact Louisa today to arrange a meeting and discuss the details at lgillespie@massageaddict.ca.
Massage Addict is Canada's first and largest membership-based massage therapy provider with almost 100 clinics and more than 1200 RMTs nationwide. Visit our website to learn more about us at http://www.massageaddict.ca.
Massage Addict is proud to partner with The Arthritis Society.
---
CHANNAL – Peer Supporters, Central (Gander) and Western (Deer Lake and Stephenville) Regions
Posted July 13, 2020
Are you a caring, compassionate empathetic individual?
Do you value sharing your experiences to support others?
Does meeting new people excite you?
CHANNAL is seeking several Peer Supporters to join our team in the Central and Western Regions, including Gander, Deer Lake, and Stephenville. CHANNAL is the only nonprofit provincial organization created by and for individuals living with mental health and addictions issues. Our mission is to inspire hope for recovery and improve the quality of life for individuals living with mental health and addictions issues and their supporters.
Peer Supporters deliver front line services in peer support, public education and policy consultation in a variety of environments and modalities. Environments may include CHANNAL offices, clinical offices, hospitals, businesses, workplaces and community. Modalities may include in person, telephone and e-supports both one to one and in group settings. Our current peer support programs include:
Shared Support Peer Group Support Family Group Support Warm Line One on One Support Doorways Community Peer Support
Duties and Responsibilities
This position is responsible for utilizing their own lived experiences in conjunction with the established guidelines of Peer Support, the Recovery Approach, CHANNAL and other partnering organizations.
Peer Supporter Responsibilities
Provides regular peer support within current programs
Interacts with peers, professionals, and community partners to enhance awareness of the importance of peer support in the recovery journey (including committee involvement, public presentations, and relationship building)
Participates in development and delivery of educational materials including wellness workshop, public education and group topic resource materials
Offers support in coordinating individuals in a volunteer/intern capacity
Maintains office space to reflect comfortable, professional image of the organization
Compiles, maintains and reports on monthly and quarterly program statistics
Attends regular program meetings in order to share pertinent information and maintain effective communication
Offers support in analyzing trends in programs, identifying issues and developing and recommending solutions
Remains informed on all areas of peer support and recovery
Represents organization as required
Performs other duties as required
Peer Supporter Requirements
Personal lived experience with (and willingness to share) mental health/ addictions issues
Minimum post-secondary completion in related field – equivalencies will be considered
Experience working with and enjoyment from supporting others Required Skills and Specifications
Demonstrates empathetic, patient, non-judgemental and supportive personality
Demonstrates a sound understanding of self-help, peer support and recovery
Demonstrates commitment to high professional ethical standards  Demonstrates ability to work independently and as a supportive member of a team
Demonstrates a commitment to nurturing and contributing to the unique culture of the organization while helping to achieve the goals of our strategic plan
Demonstrates excellent interpersonal and relational skills – ability to establish trusting relationships
Demonstrates a commitment to role modelling a recovery lifestyle by sharing common experience and practical information
Demonstrates an ability to respect other people's right to refuse help or resist change
Demonstrates a high level of confidentiality and flexibility towards change
Demonstrates effective strategies for maintaining own personal health
Demonstrates strong computer skills and proficiency in Microsoft Office
Demonstrates effective verbal and written communication skills
Work hours with part time, full time and casual positions a possibility, weekly hours may vary. Shifts occur 7 days a week, with majority of shifts occurring between 8:30 AM – 12:00 AM.
Flexibility in work hours is required to accommodate the fast-paced, flexible community environment.
Compensation The rate of pay for this position will be discussed.
CHANNAL offers a competitive health and dental package.
All staff are offered a variety of training opportunities, including a professional Peer Support training program. We also offer a working environment that supports and fosters wellness. Our all-inclusive team approach is unique in that we honour and recognize mental health and addictions issues as an asset.
How to Apply
Email your cover letter and resume explaining how you meet the requirements to hire@channal.ca
Please indicate which region you are applying for. Applications with no region indicated will not be reviewed.
---
Logistec Stevedoring Inc. (Port of Corner Brook) – Career Opportunities
Posted February 20, 2020
Logistec Stevedoring (Port of Corner Brook) are now accepting resumes for the following positions:
Equipment Operator
Mechanic
Operations Manager
Superintendent
Clerk
For more information or to apply, please visit the Port of Corner Brook website's "Employment Opportunities with Logistec Stevedoring Inc. at Port of Corner Brook" page at http://www.cornerbrookport.com/employment-opportunities-with-logistec-stevedoring-inc-at-port-of-corner-brook/.
---
Western Health – Sterile Supply Technicians (Temporary, Call In)
Posted February 7, 2020
Western Health are now hiring Sterile Supply Technicians for their following locations:
These are excellent career opportunities for Medical Device Reprocessing graduates. Check them out!!!
---
Momentum Home Support – Developmental Support Worker
Posted October 4, 2019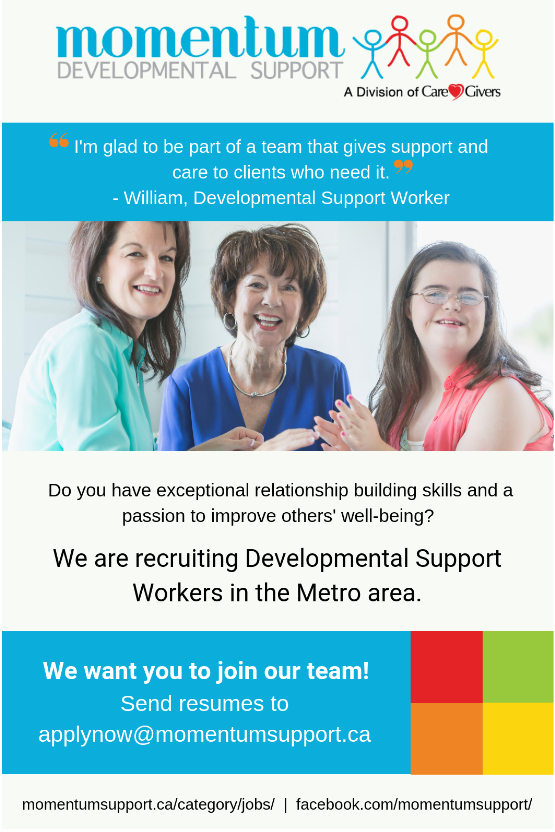 ---
Come Home To A Career In Atlantic Canada
Posted September 9, 2019
Are you graduating soon or a recent graduate? If so, Steele Auto Group is hiring and providing incentives!
Through their "Come Home" campaign, Steele Auto Group will contribute up to $7,500 relocation assistance for those individuals relocating from outside Atlantic Canada and up to $2,500 for those relocating to Atlantic Canada!
https://www.steeleauto.com/comehome
To learn more about Steele Auto Group's come home relocation assistance package, contact comehome@steeleauto.com.
For more information on the open positions, visit https://www.steeleauto.com/about-us/careers.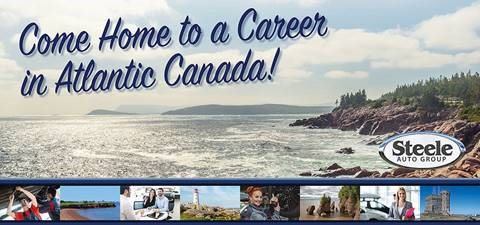 ---
Puglisevich – Wednesday Walk In
Posted August 14, 2019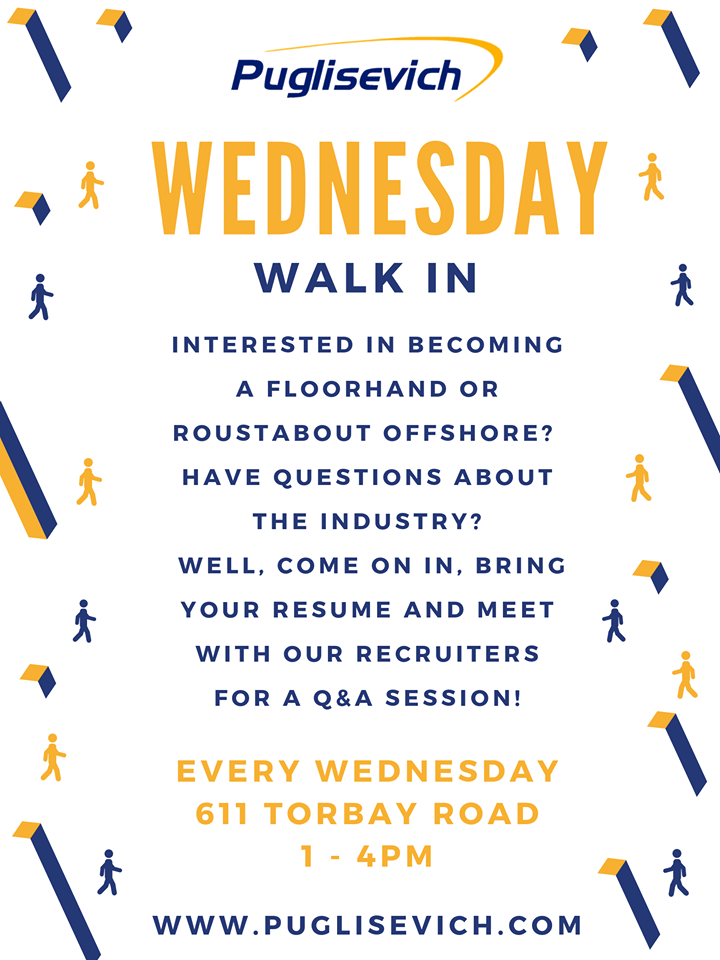 ---
Beaver Brook Antimony – Career Opportunities
Posted January 30, 2019
Beaver Brook Antimony are expanding their operations.
To help with their expansion, they are now recruiting applicants from skilled tradespeople to administrative professionals.
For more information about their career opportunities, please view the flyer below.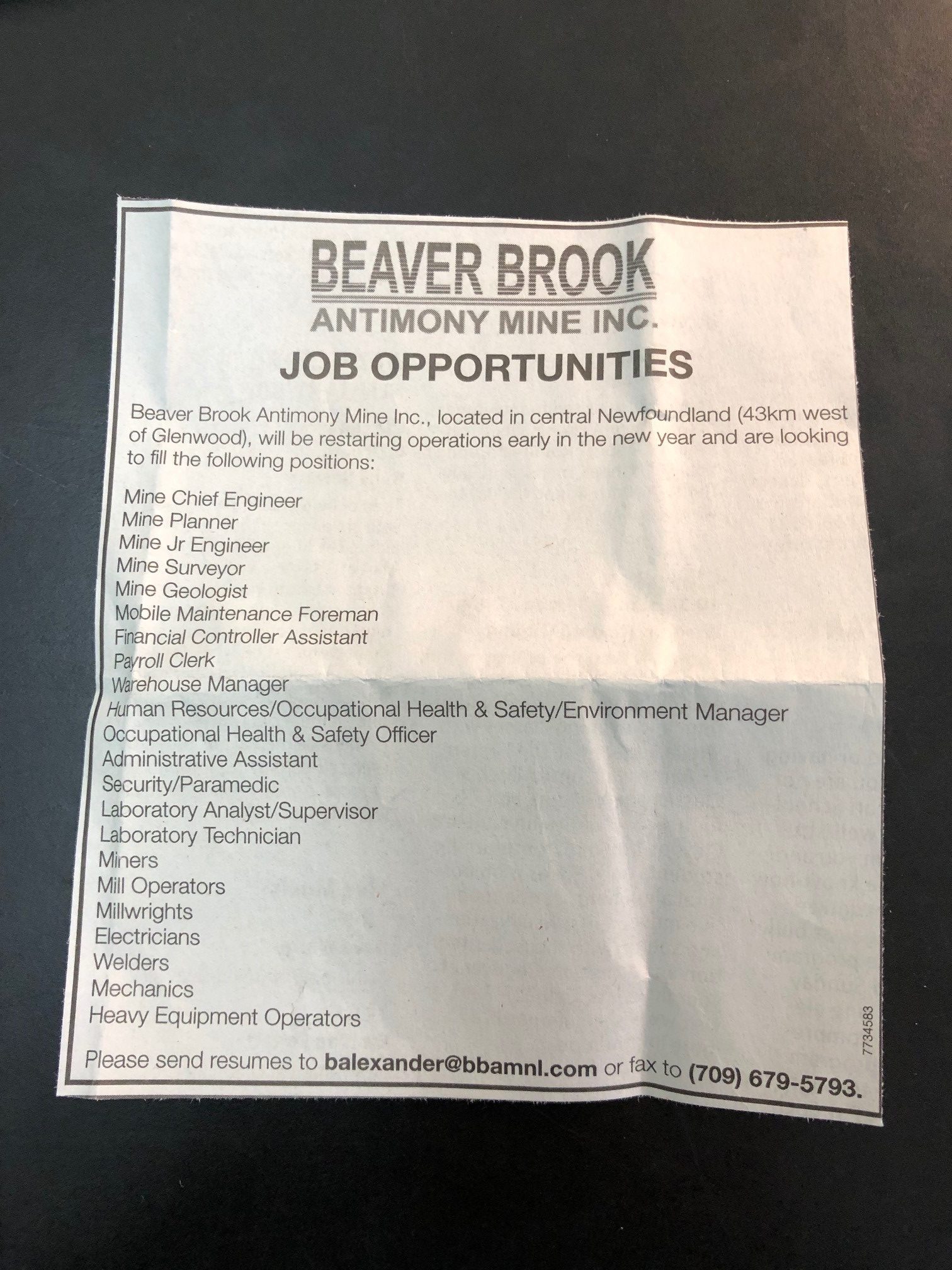 ---
ATTENTION – All female trades graduates
Please make sure you contact the Office to Advance Women Apprentices.
This office is dedicated to ensuring that employment opportunities are available for female apprentices.
Please visit their website: http://www.womenapprentices.ca/ or contact Mary Ford, Job Recruitment Coach at 757-5434, extension 238.
---
Government of Newfoundland and Labrador "Office of Employment Equity for Persons with Disabilities"
Attention all students.
The Office of Employment Equity for Persons with Disabilities can assist any student with a disability find summer employment.
When you have finished your program, they can also assist in finding employment.
For more information, please contact Krista Legge at 729-5881 or e-mail kristalegge@gov.nl.ca.
Academy Canada are please to announce that our Webmaster, Jack Barrett, will be inducted into Canada's Sports Hall of Fame for the class of 2020-2021. Jack will become the first Special Olympian…
Read More