"Campus Life" Events and Articles
Convocation 2023 Reminders
Posted March 16, 2023, Updated May 26, 2023
Convocation 2023 is fast approaching and the Academy Canada Nation can't wait to celebrate with you.
Here are some important reminders.
Corner Brook Campus
June 29, 2023 – Convocation Day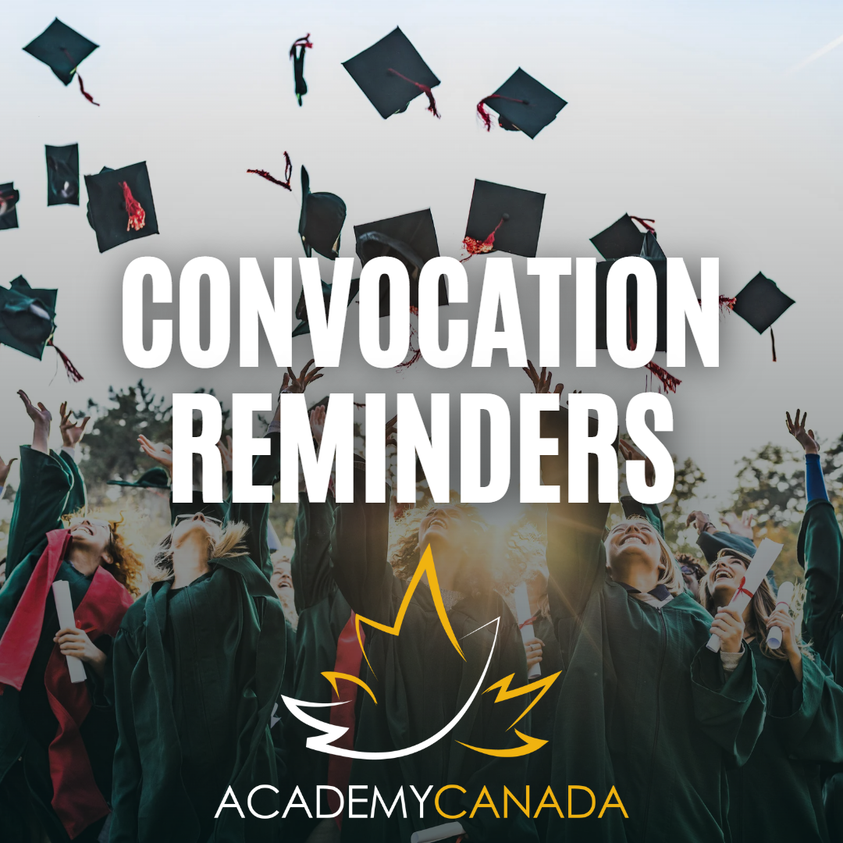 ---
National Indigenous History Month
Posted June 2, 2023
June is National Indigenous History Month! This is an opportunity to learn about and celebrate the cultures, traditions, experiences and resilience of Canada's Indigenous Peoples.
About this image, developed by Crown-Indigenous Relations and Northern Affairs Canada:
Among the various visual elements illustrating Indigenous cultures, the sun represents the summer solstice.
First Nations, Inuit and Métis as well as the four elements of nature (earth, water, fire and air) are represented by different symbols and colours.
The visual is supported by a multicoloured smoke* reminding us of Indigenous spirituality but also the colours of the rainbow, symbol of inclusion and diversity of all First Nations, Inuit and Métis communities and their members.
All three indigenous groups in Canada use smoke in different ways. Whether it is to smoke fish and meat, to burn sage and tobacco, or for sacred ceremonies or celebrations, it is a significant symbol in Indigenous cultures.
Description of the three icons:
The eagle represents First Nations
The narwhal represents Inuit
The violin represents Métis
To learn more and get involved:
Visit http://ow.ly/RwrY50OE5GE for resources, or learn more about the important work being done year-round at local Indigenous organizations such as First Light, Aboriginal Sport and Recreation Circle Newfoundland Labrador, Bay St. George Mi'kmaq Cultural Revival Committee, Labrador Friendship Centre, and more.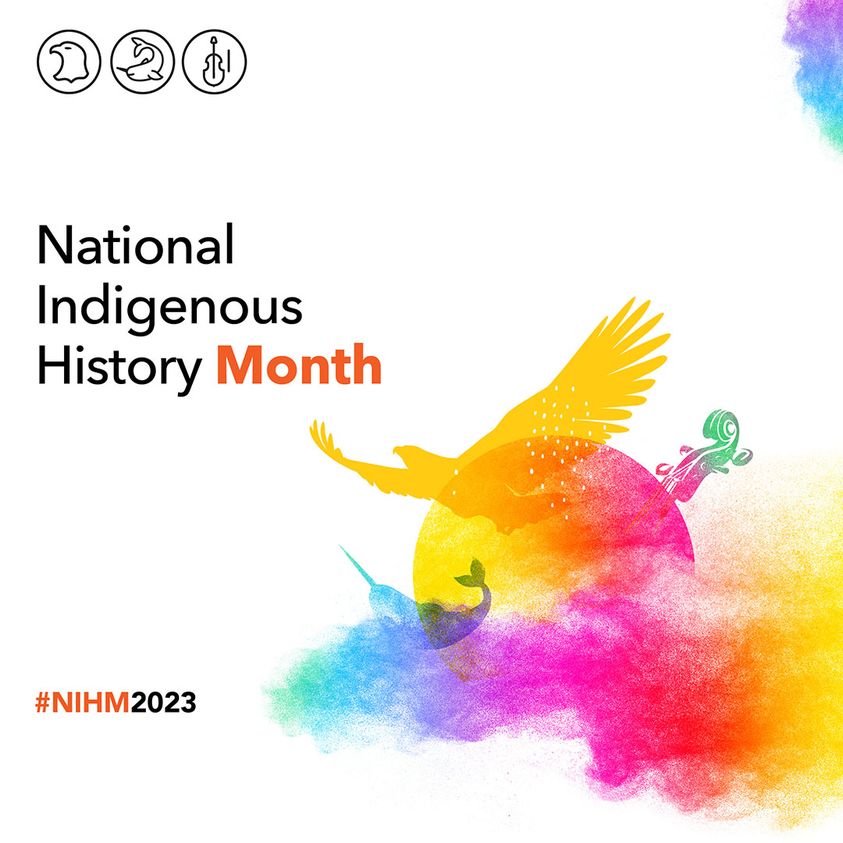 ---
Academy Canada Thanks The Following Early Childhood Education "Practicum Hosts"
Posted June 3, 2023
As Early Childhood Education Week comes to a close, we would like to give one final important shout out. Last but certainly not least, thank you to our incredible network of employment partners. Each of these organizations has recently hosted a student for a practicum in their centre. Practicums are an essential part of a student's training, giving them a real-world opportunity to apply the skills they learned in the classroom under the guidance of knowledgeable and experienced professionals.
By welcoming students into your classrooms, you are helping to nurture and grow the next generation of Early Childhood Educators! Thank you for supporting student success.
We would also like to send a special thank you to the staff at our childcare centre in Corner Brook, Creative Beginnings! Beyond supporting students as a practicum host, our team of ECEs there work hard to provide excellent care to children year-round. Thank you for all you do!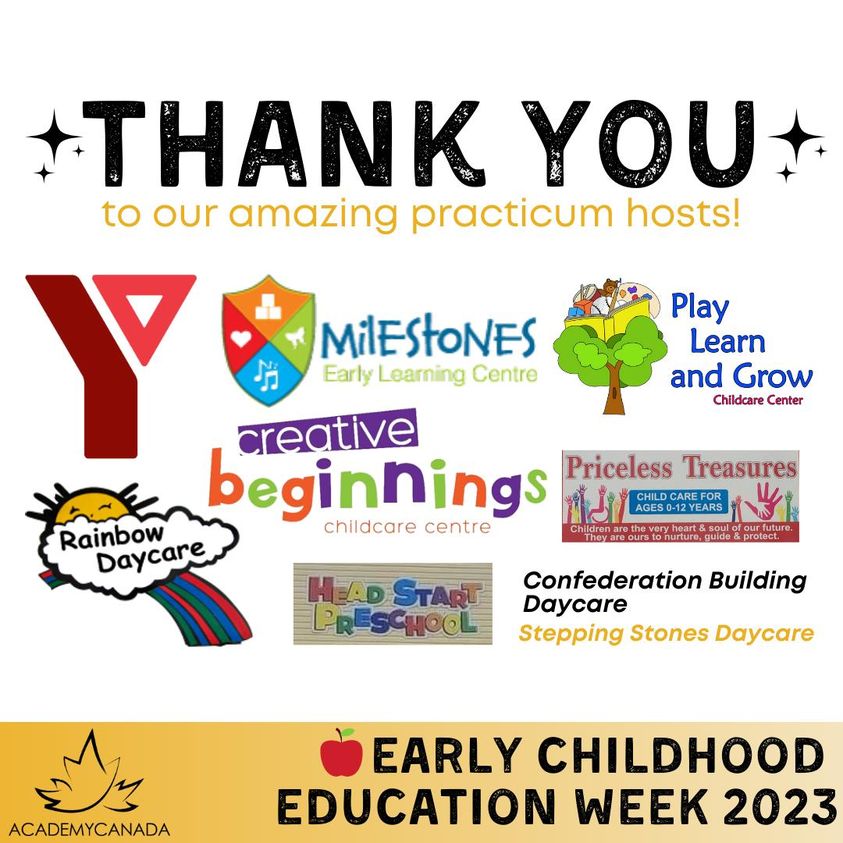 ---
Meet Our Team – Early Childhood Education Instructor, Santana Billard
Posted May 29, 2023
Santana is another of the amazing instructors in our Early Childhood Education program. She completed training in both education and nursing, including ten years of experience working as an Early Childhood Educator. We are lucky to have her on our team to bring her knowledge and experience into the classroom. Fun fact: Santana has also worked at Creative Beginnings, Academy Canada's childcare centre in Corner Brook!
We asked Santana some questions about her career in Early Childhood Education – check it out!
Question: If you could give a piece of advice to someone looking to start a career in Early Childhood Education, what would it be?
Answer: My advice to anyone who would like to begin a career in Early Childhood Education would be to work hard and show compassion to those who put their trust into you. The hard work will be rewarded in so many ways, from being a building block of a child's learning journey, providing the family support that everyone needs, becoming an important community member, and helping shape the Early Childhood Education industry for the future. This program is life-changing for everyone that is involved.
Check out the rest of Santana's interview here: https://www.academycanada.com/santana-billard/
Thank you for all you do, Santana!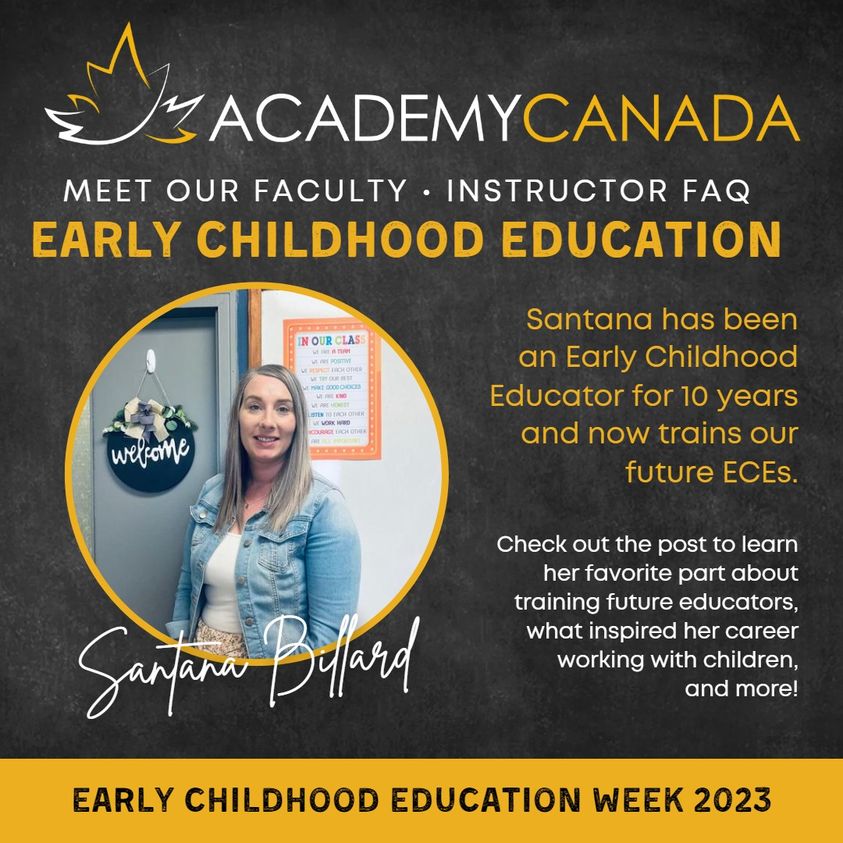 ---
Meet Our Team – Early Childhood Education Instructor, Annette Drake
Posted May 29, 2023
Annette is one of the talented instructors in our Early Childhood Education department. She joined us after 27 years of working in the field and now shares her knowledge and expertise with the future Early Childhood Educators of NL!
Read on to see what Annette has to say about the important work being done in Early Childhood Education. Thank you for all you do, Annette!
"With almost three decades in the field, I have witnessed the evolution of this exciting sector. The profession has shifted from caregivers that work for families to educators who work with families. Research in child development supports the value and importance of Early Childhood Education in society. So much is learned in the first five years, so it is crucial that children get a good start with caring, trained and knowledgeable educators.
ECEs work in diverse settings such as regulated childcare centres, schools, family resource centres, or operate home-based childcare. We are essential to the community; we support economic growth and provide care for the province's most valuable resource, our children.
It is such an exciting time for ECEs with the introduction of a newly released wage grid and financial incentives for educators to pursue higher learning. Learn more: https://www.gov.nl.ca/releases/2023/education/0328n01/.
Over the years, I have worked with many wonderful educators who influenced my life and for whom I am truly grateful. The opportunity to mentor, guide and educate the next generation of ECEs is an amazing experience. A big thank you to the childcare centers who welcome our students and enrich their academic experience with hands-on learning. There is no greater time to join the profession and become a trained, certified ECE; we make a difference. Happy ECE week to one and all!"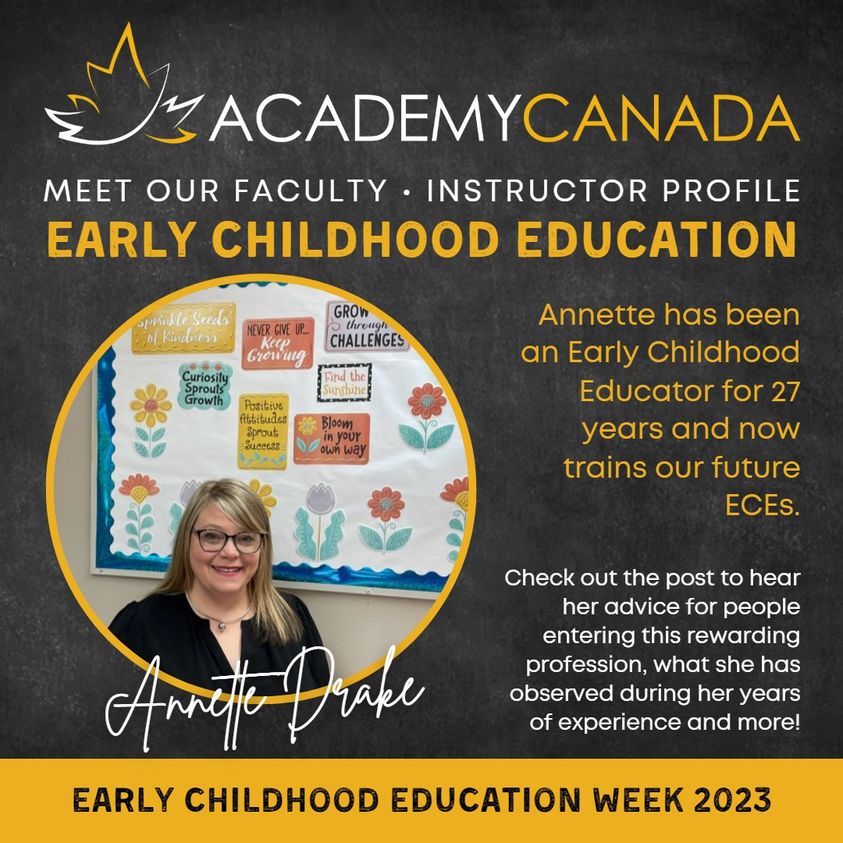 ---
Early Childhood Education Week
Posted May 29, 2023, Updated May 31, 2023
Early Childhood Educators play a crucial role in a child's development and have a significant impact on their overall well-being.
They introduce children to early academic concepts, such as literacy and numeracy, as well as promote essential skills like problem-solving, creativity, and critical thinking.
Beyond academic skills, they also play an important role in social and emotional development and shaping the lives of children as a whole.
To celebrate this week, we'll be sharing information about this rewarding career as well as spotlights of some of our amazing ECE faculty members and students.
Our students are excited to join this field to help Newfoundland and Labrador's children and future leaders!
Learn more about our Early Childhood Education program's students training to be tomorrow's nurturers and leaders at https://www.academycanada.com/ece-students.
---
Kenmount Road Campus – Student Waxing Clinics
Posted May 24, 2023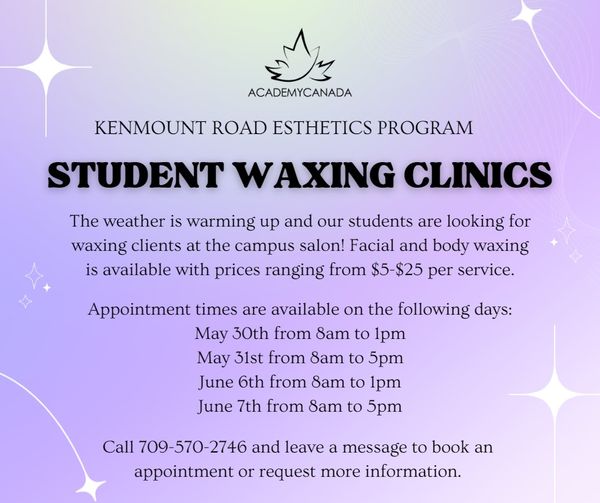 ---
Its Mental Health Awareness Month
Posted May 24, 2023
The Canadian Mental Health Association states that exercising, even as little as moving your body for a short time, has immediate, long-lasting and protective benefits for the body and the brain, which directly correlates with your mental health.
This exercise doesn't have to be intense. Try walking more if running isn't your style, or a workout video on YouTube if you don't want to go to a gym.
Some of the psychological effects of daily physical activity include:
Lowered levels of depression
Lowered levels of stress
Lowered levels of anxiety
Lowered levels of trauma
Lowered levels of sleep deprivation
Increased levels of happiness
Increased levels of self-love
Increased resiliency
Learn more:
Fitness centres near our campuses with student fitness memberships or low-cost drop-in classes available:
West Coast
Humber Valley YMCA: https://www.humbercommunityymca.ca/membership/
Corner Brook Civic Centre: http://cbciviccentre.com/facilities/fitness-centre/
East Coast
Summit Centre: https://www.mountpearl.ca/recreation/summitcentre/
Paradise Fitness Centre: https://www.paradise.ca/en/parks-recreation-and-culture/body-quest-fitness-centre.aspx
Ches Penney YMCA: https://ymcanl.com/avalon/ches-penney/join-now/
City of St. John's Recreation Calendar: https://calendar.stjohns.ca/recreation/Month#
Physical Activity Tax Credit: https://www.gov.nl.ca/fin/tax-programs-incentives/personal/physical-activity-tax-credit/
Learn about your physical activity needs through the years: https://www.participaction.com/get-active/
The Canadian 24-Hour Movement: http://ow.ly/fUSG50OvR5C
---
Women In Resource Development (WRDC) Scholarships
Posted May 23, 2023
Take advantage of this great opportunity!
Female students joining our Welder, Carpenter, and Construction/Industrial Electrician programs this September are eligible to apply for the WRDC Scholarships.
Apply today!
A $1,500 scholarship could be yours!
For details, visit: https://wrdc.ca/news/2023-trades-technology-scholarships/.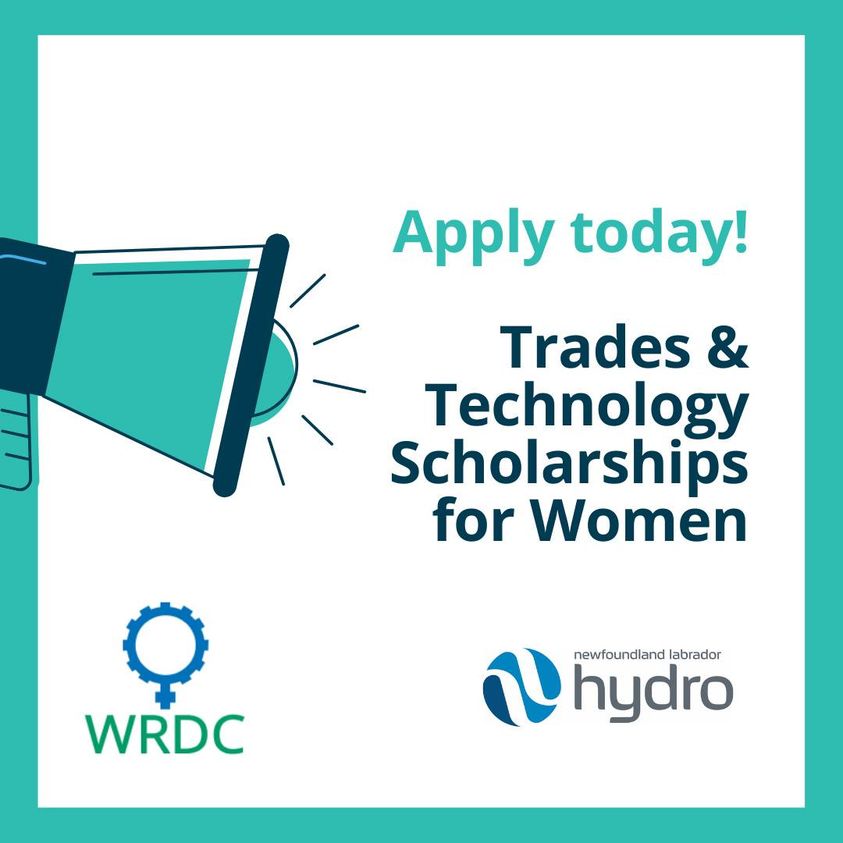 ---
"Furever Young Fundraiser"
Posted May 23, 2023
Coming up in June!
Come visit our St. John's Veterinary Assistant/Receptionist students at their fundraiser in support of Furever Young Senior Animal Rescue.
All proceeds from the fundraiser will support Furever Young's mission to rehome senior cats and dogs.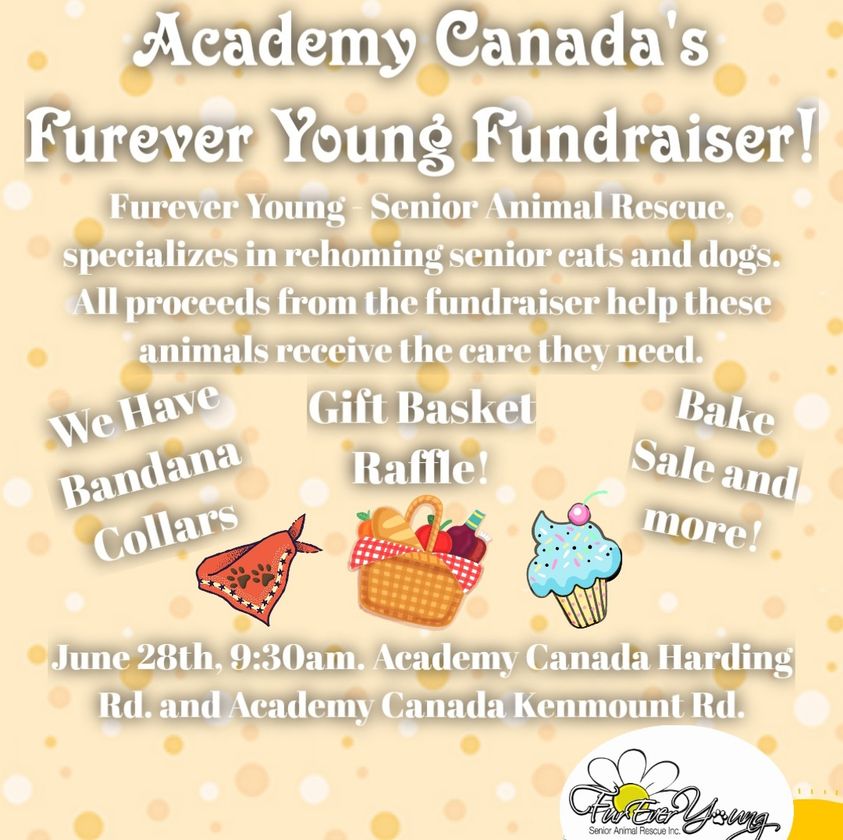 ---
"SweetandTreatathon"
Posted May 12, 2023
Hello and welcome!
We are a small Veterinary Assistant/Receptionist group at Academy Canada (Harding Road Campus, St.Johns) who are putting off a "SweetandTreatathon" fundraiser, where 100% of proceeds will be going towards "Furever Young- Senior Animal Rescue".
Their mission is to rescue, adopt, and rehome senior dogs and cats.
They are also 100% volunteer based.
Vet bills are a constant with rescue organizations, especially for seniors, so this is our way of saying thanks for what you do!
Our "SweetandTreatathon" includes carnival games that are fun for the whole family, many sponsor donated prizes to win, and a bake sale of homemade goodies we made!
If you would like to come along and support FurEver Young – Senior Animal Rescue, or maybe you are just looking for a fun day to get out with the family, please like and follow our page at https://www.facebook.com/profile.php?id=100092481765497.
This fundraiser will be held in St. John's.
Location, date, and time, as well as our sponsors and their donations to be announced at a later date!
We would like to thank you in advance for your shares, likes, follows and support.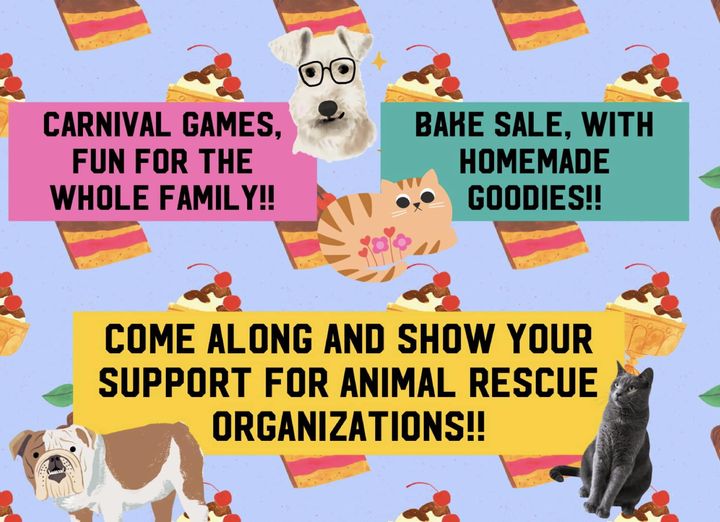 ---
Mental Health Awareness Month
Posted May 10, 2023
College students are at a unique point in their lives. They're embarking on an exciting journey to change their futures and make a difference in the fields they're joining. During this time, students typically experience a wide range of emotions, including excitement, stress, anxiety, happiness, and more. Some of these emotions can contribute to mental health challenges, so taking a holistic approach to mental health and well-being is important.
A holistic approach to well-being can include strategies for time management, exercise, healthy eating habits, getting enough sleep, and mindfulness practices such as meditation or deep breathing exercises. Students should also prioritize self-care activities such as spending time with supportive friends and family members, pursuing hobbies and interests, and seeking counselling or other mental health services when needed. Investing time in these different areas can pay off with health benefits!
Stay tuned to our channels throughout the month as we share student wellness tips and resources. The first topic is navigating counseling options. See below for resources and tips!
Find counseling resources near you: https://www.gov.nl.ca/hcs/mentalhealth-committee/mentalhealth/counselling-options/
Access online mental health supports: https://www.gov.nl.ca/hcs/mentalhealth-committee/mentalhealth/online-supports/
Get support from provincial helplines and navigators: https://www.gov.nl.ca/hcs/mentalhealth-committee/mentalhealth/helplines-and-navigator/
Access mental health support through the telemedicine service Medicuro: https://www.medicuro.ca/treatment-types/
Right Here, Right Now Counselling at St. John's Women Centre (in-person, phone, video): https://sjwomenscentre.ca/programs/st-johns-womens-centre/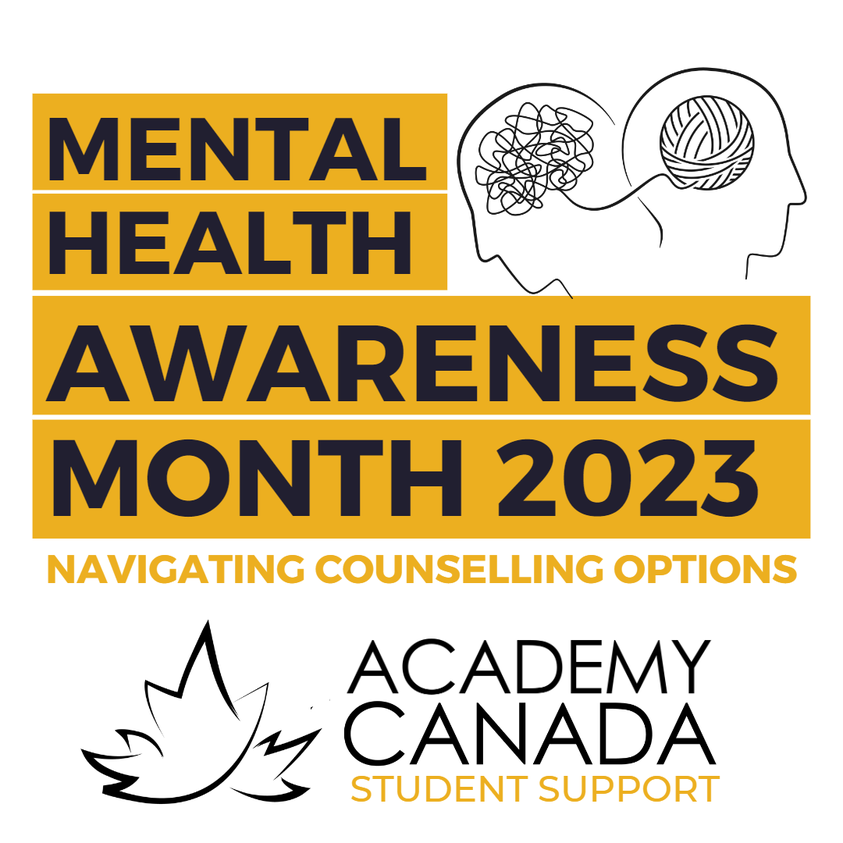 ---
Massage Therapy Students Gain Hands On Experience At Westbury Estates Senior Living
Posted March 23, 2023
On March 22, 2023, Academy Canada Massage Therapy students and their instructor, Ashley Yetman, provided massage services to Westbury Estates Senior Living residents.
Academy Canada thanks Westbury Estates for having us participate.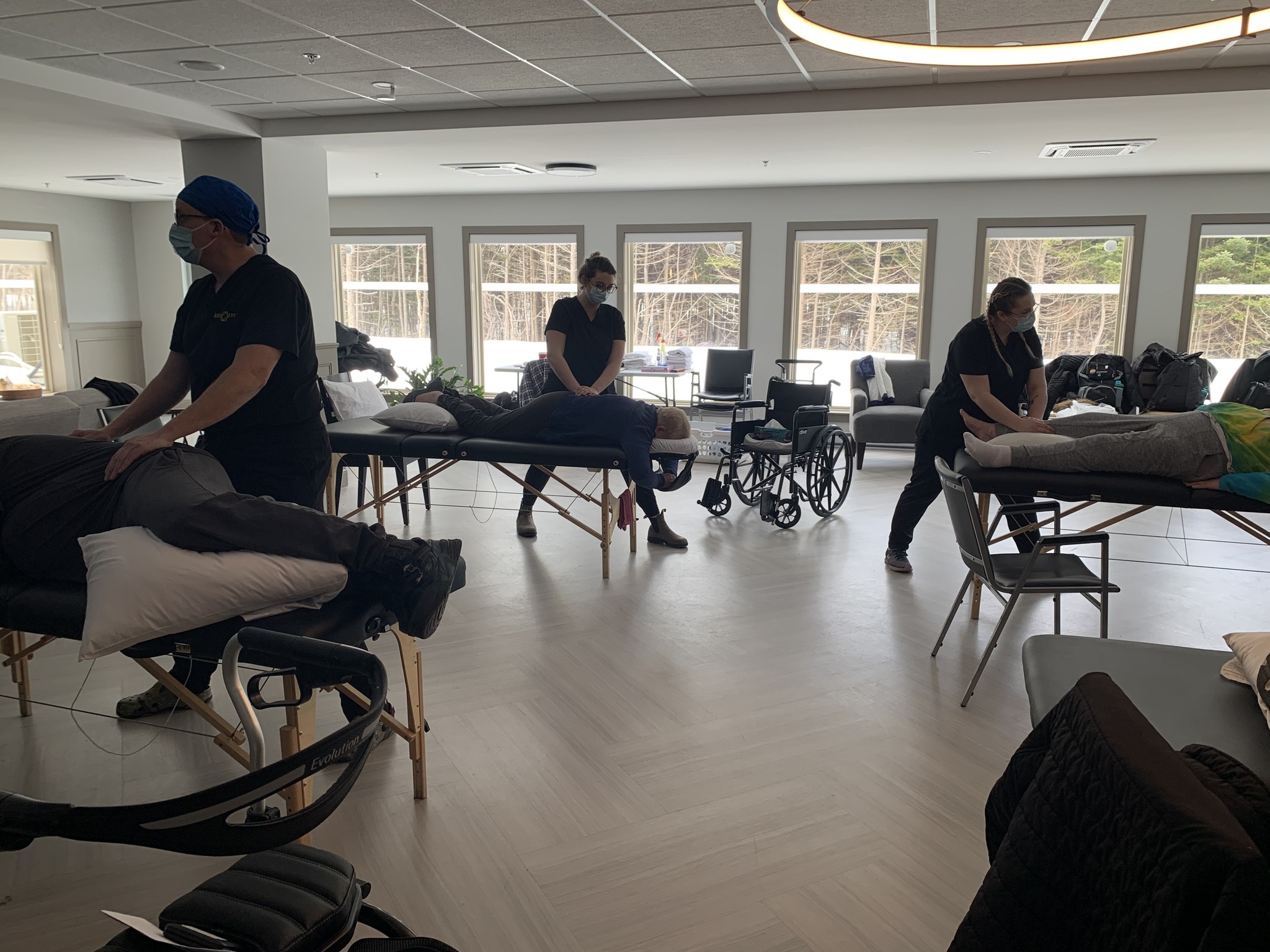 Academy Canada Massage Therapy Students provide a relaxing massage to Westbury Estates patrons.
---
Academy Canada Cook Students Prepare Breakfast For Ronald McDonald House
Posted March 17, 2023
On March 17, 2023, Chef Bernie Ann Ezekiel and her Cooking students prepared healthy and hearty breakfast at Ronald McDonald House.
When parents have a home away from home as their children are battling cancer, Ronald McDonald House and our Cooking students are here to brighten their day.
Ronald McDonald House thanks Academy Canada Culinary Class for spending their early morning in our kitchen.
A hearty breakfast is a welcomed way to start a busy day at the hospital.
Our kitchen programs are a great way to show support; a group can be coworkers, friends, family! We have openings for the rest of the year.
Help make a difference to parents and guardians of children who are battling cancer, sign up to be a volunteer at https://rmhcnl.ca/volunteering/participate-in-a-program.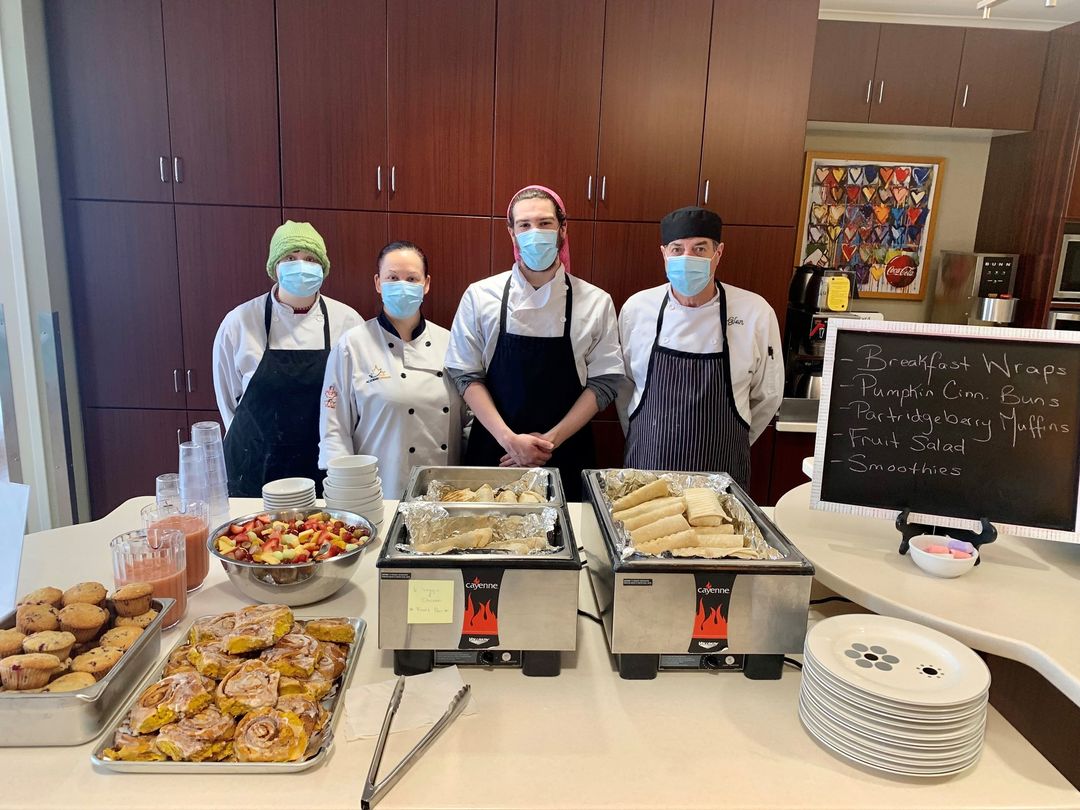 Academy Canada's Culinary Arts (Cook) students prepared healthy meals for families staying at Ronald McDonald House, making their experience a home away from home.
---
Its That Time Again – Convocation 2023
Posted February 13, 2023
Students are advised that this year's convocation dates have been scheduled as follows:
St. John's: Thursday, May 18, 2023 at the St. John's Arts and Culture Centre
Corner Brook: Thursday, June 29, 2023 at the Corner Brook Arts and Culture Centre
Stay tuned for more information by email and on socials.
If you have any questions, please get in touch with your campus administrators.
We can't wait to see you there and celebrate with you!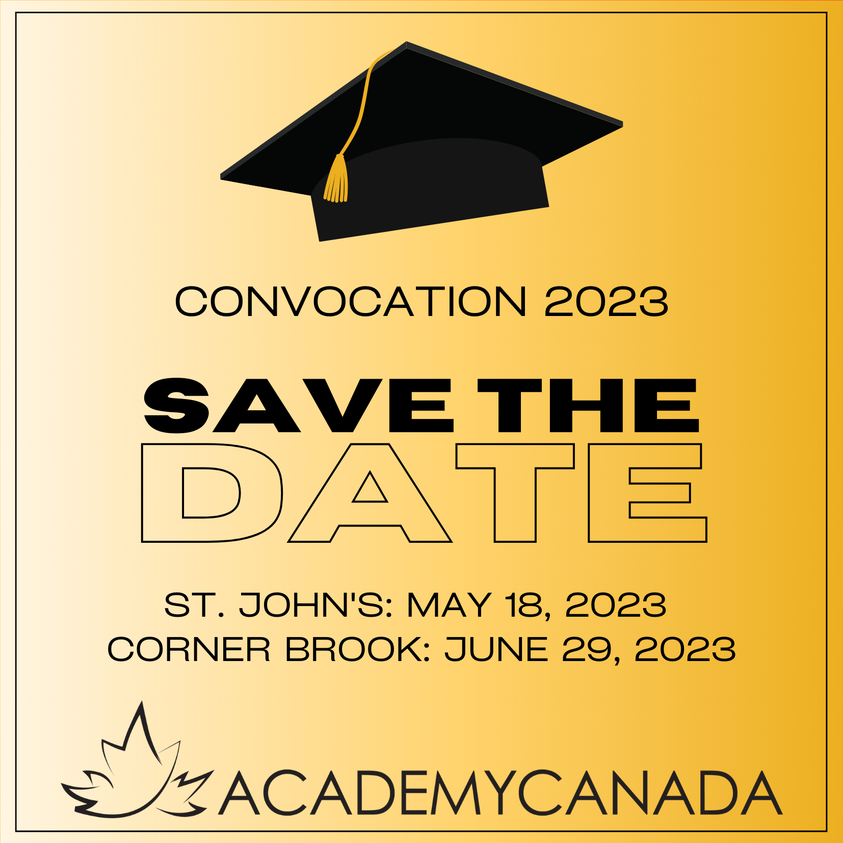 ---
"East Coast Canine" Gives Presentation About "Animal Nutrition" To Veterinary Assistant/Receptionist Students
Posted December 12, 2022
Thank you to the guest lecturers who presented to our Veterinary Assistant students in December 2022.
Sarita Pellowe from East Coast Canine Dog Training discussed canine behaviour and positive reinforcement training. Sarita is the province's first and only CBCC-KA (certified behaviour consultant). Learn more about her and her local training programs here: https://www.eastcoastcanine.ca/.
Romy Shapiro, Mike Kizer and Anne Porter visited from Purina, Royal Canin, and Hills Science Diet's veterinary divisions. They discussed animal diet and nutrition, as well as what new prescription food products are being added to the market.
Thank you to each of these industry experts for sharing their time and expertise
---
For Employers – Skills Gap Solutions
Posted November 9, 2022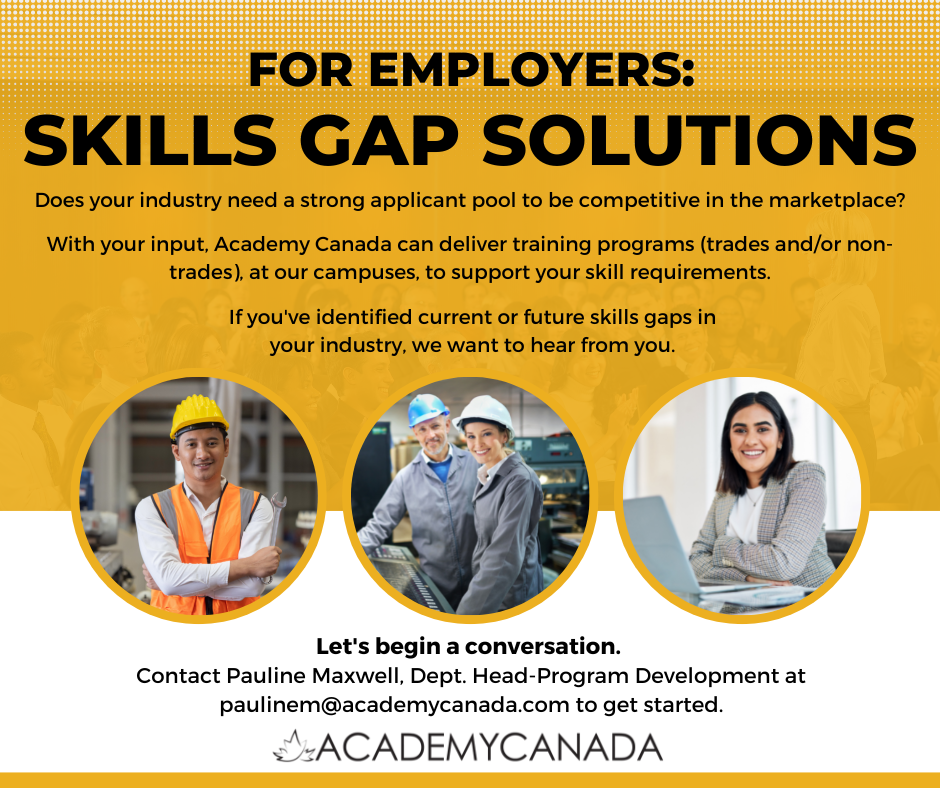 Employers: does your industry need a strong applicant pool to be competitive in the marketplace?
With your input, Academy Canada can deliver training programs (trades and/or non-trades) at our campuses to support your skill requirements.
If you've identified current or future skills gaps in your industry, we want to hear from you.
Let's begin a conversation. Contact Pauline Maxwell, Deptartment Head of Program Development, at paulinem@academycanada.com to get started.
---
Kenmount Road Campus – Artistic Nail Enhancement Service
Posted November 24, 2022
Our Kenmount Road Esthetics and Spa Management with Electrolysis students are currently perfecting their artistic nail enhancement skills and are offering the following services free of charge:
Square French tipped or sculpture applications (full set of gel nails).
Red gel polish manicure applications (red shellac applications).
Please note the following:
As the students are perfecting their skills, please allow up to 4 hours for a full set of gel nails.
Allow 60-75 minutes for gel polish manicures.
The appointment times are as follows:
Full sets of gel nails Tuesdays, 8:15 AM and 1:15 PM, Wednesdays 8:15 AM and 1:15 PM, Thursdays and Fridays 9:30 AM.
The times vary for gel polish applications.
Please email lpower@academycanada.com to book an appointment!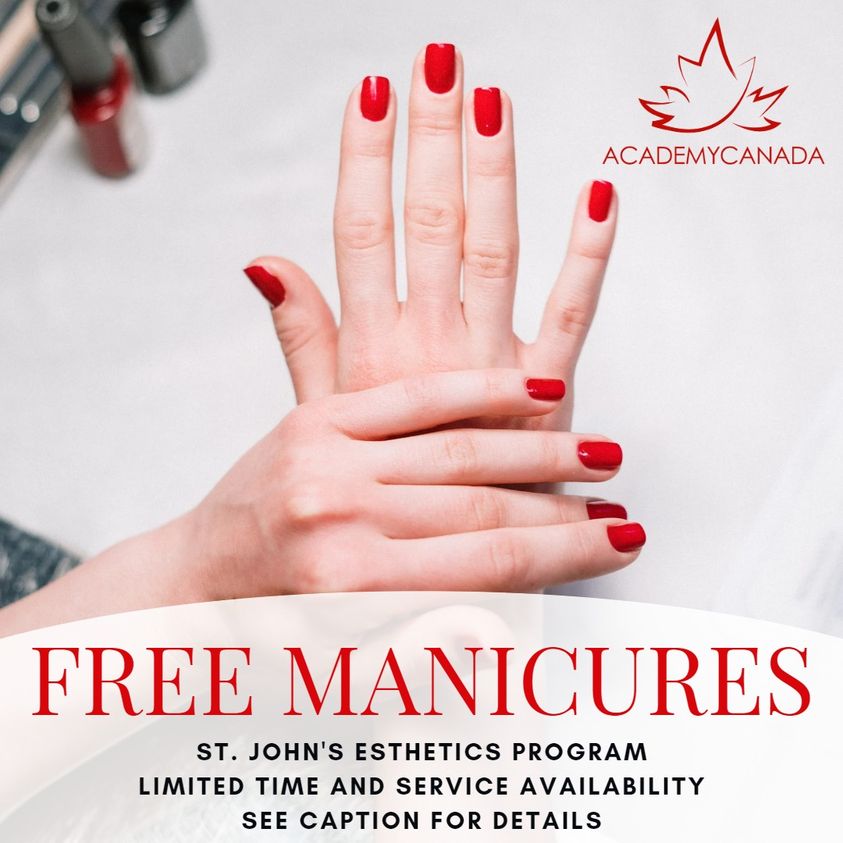 ---
Therapeutic Recreation Students Take Field Trips To "The Perlin Centre" and "Pearl House"
Posted November 16, 2022
What's new in the Therapeutic Recreation program?
During October 2022, Therapeutic Recreation students and instructor attended Casino Day with the wonderful residents of Pearl House in Mount Pearl. Thanks to McKenzie Beazley, "Pearl House" Recreation Director, for a wonderful day!
The Therapeutic Recreation and Occupational Therapist Assistant classes also had a recent site visit at the "Perlin Centre" – what a great time with Randy and the Vera Perlin participants!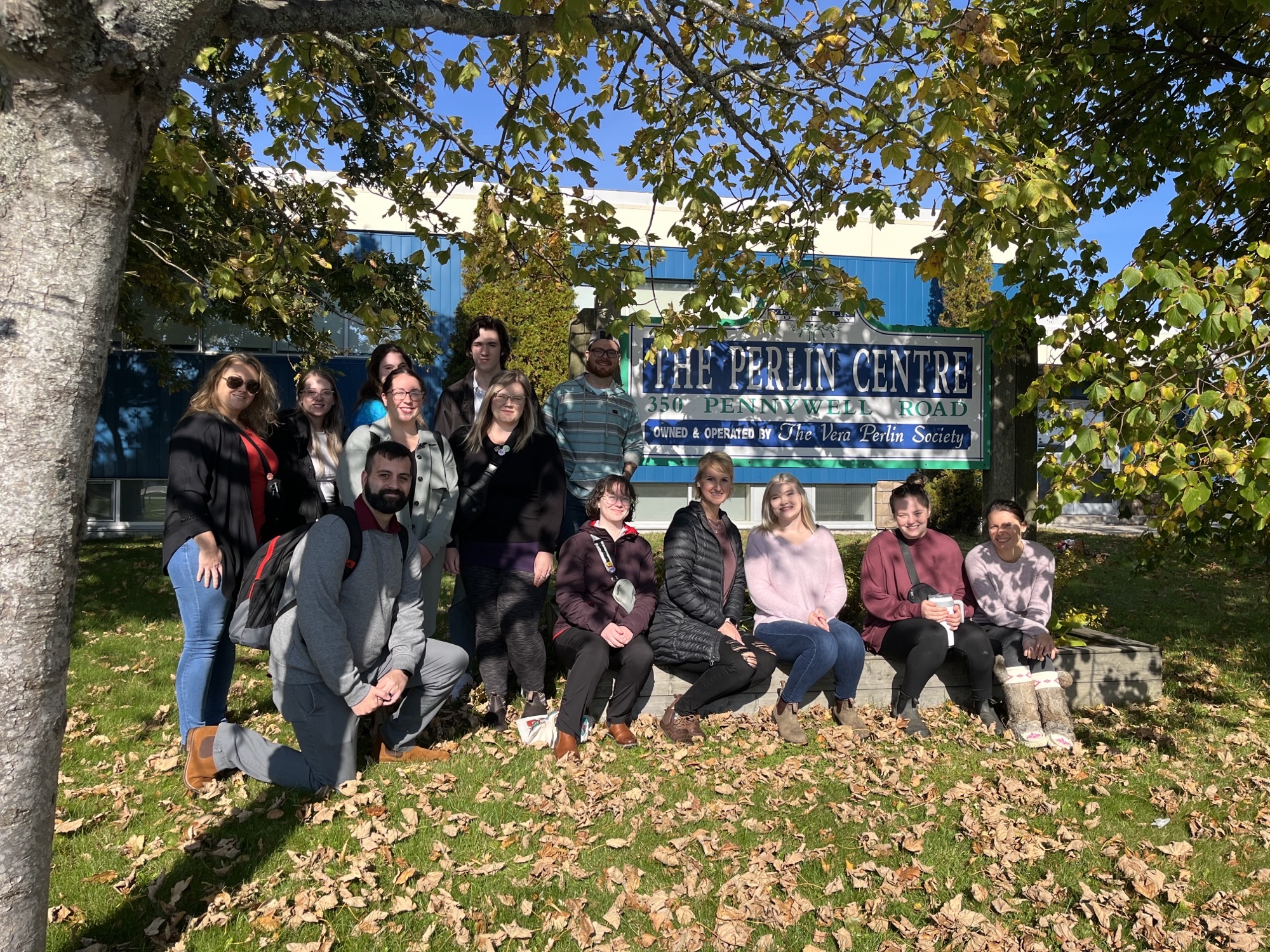 ---
Academy Canada's Esthetics and Spa Management with Electrolysis Volunteer at "Miss Achievement Gala"
Posted November 14, 2022
Big shout out to Autumn Roche and Alicia Hennessey who volunteered her time and skills at the Miss Achievement Gala from November 11 – 13, 2022.
Well done Autumn and Alicia.
---
What is Therapeutic Recreation?
Posted October 13, 2022
A growing field that teaches students about creating purpose and meaning in people's lives
An opportunity to learn about aging, chronic illness, diversity, anatomy, human development and more
A profession with work opportunities in healthcare, education, nonprofit organizations, and so much more. Check out the video to see some of our featured employers from 2021-2022.
An ideal path for someone looking for a career that enriches the lives of seniors and individuals with disabilities
HIGHLY in demand!
We have been offering this program in St. John's for over 20 years and are thrilled to announce that applications are now open to enroll in this program at our Corner Brook campus as well.
The first class will start in January 2023 – apply online here: https://www.academycanada.com/admissions/apply-online/.
---
Skills Canada Visits The Kenmount Road Campus
Posted November 9, 2022
On November 2, 2022, Skills Canada visited the Kenmount Road Campus for a tour and demonstration.
They also gave sessions on Career Planning.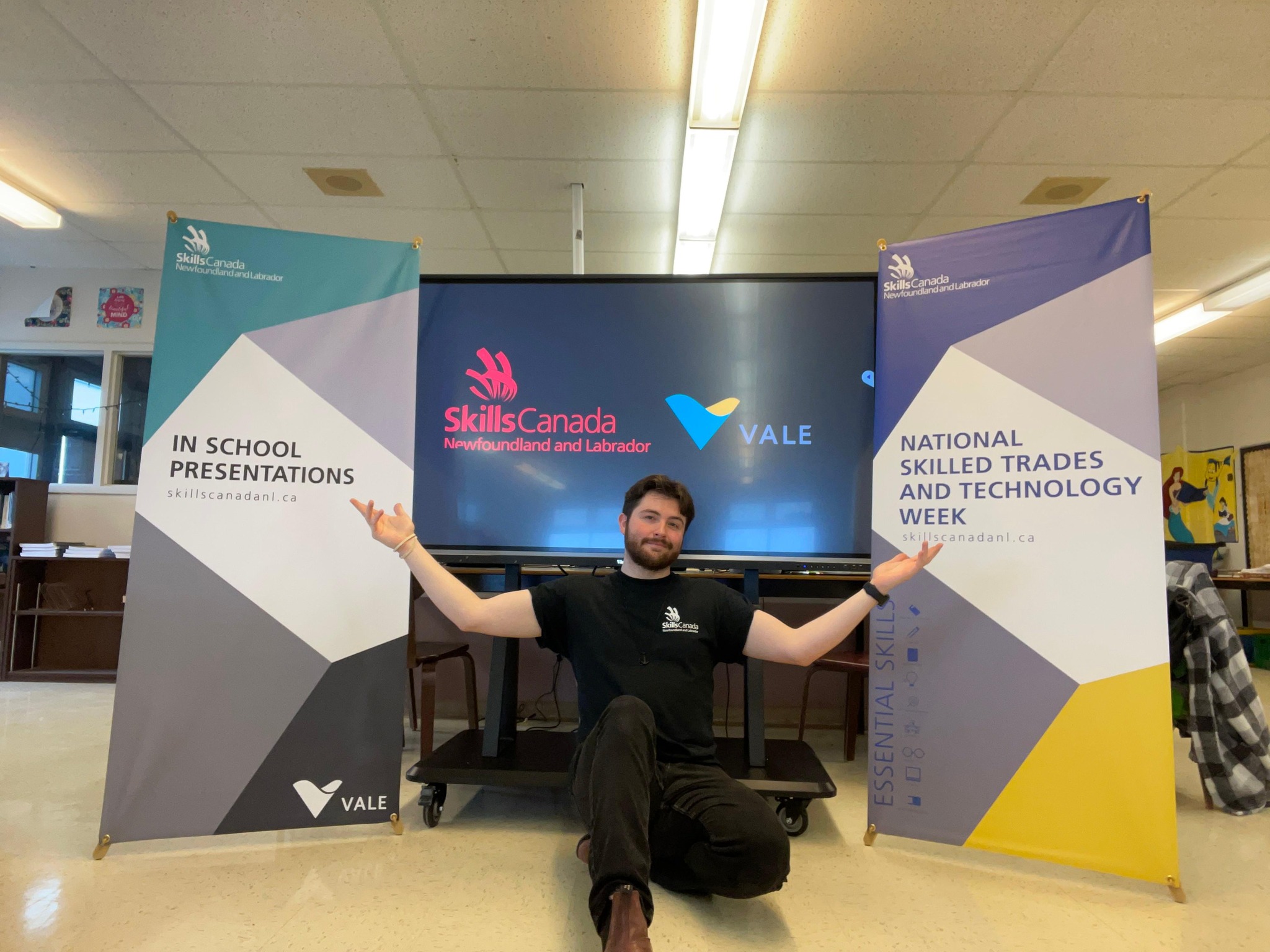 Skills Canada puts a display at the Kenmount Road Campus.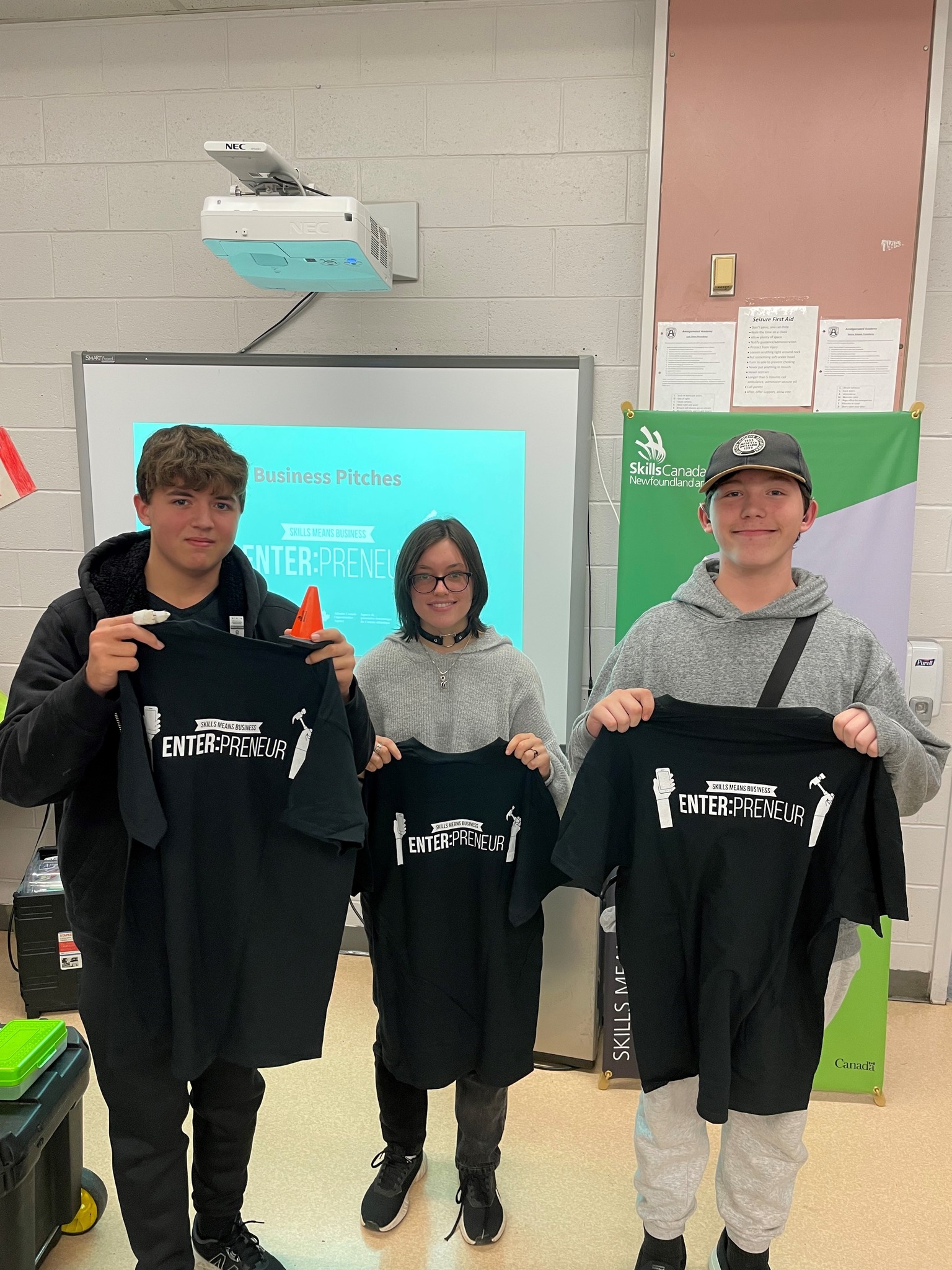 Some lucky students won "Enter:preneur" shirts.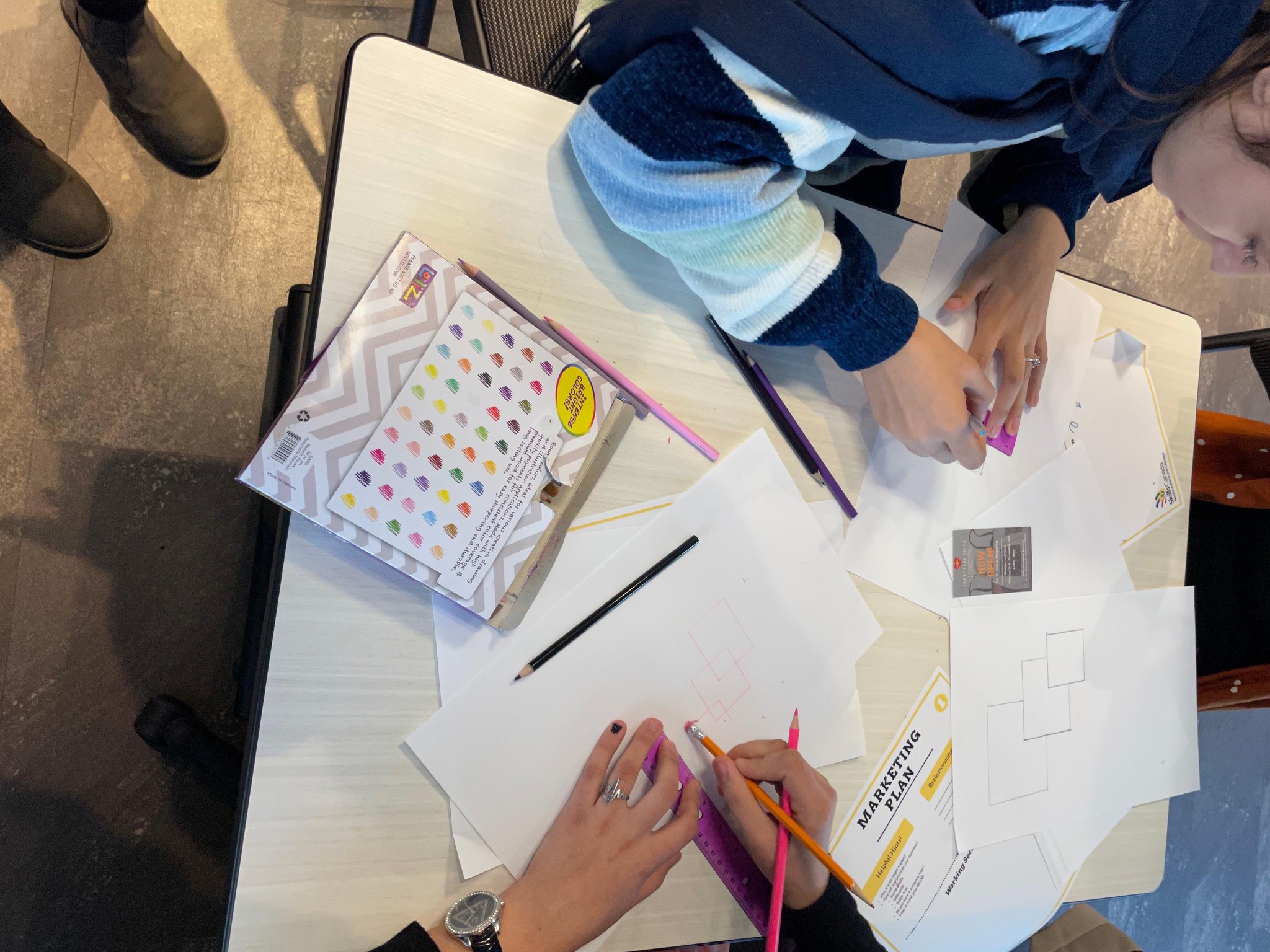 Aspiring Business students learn how to do Marketing plans.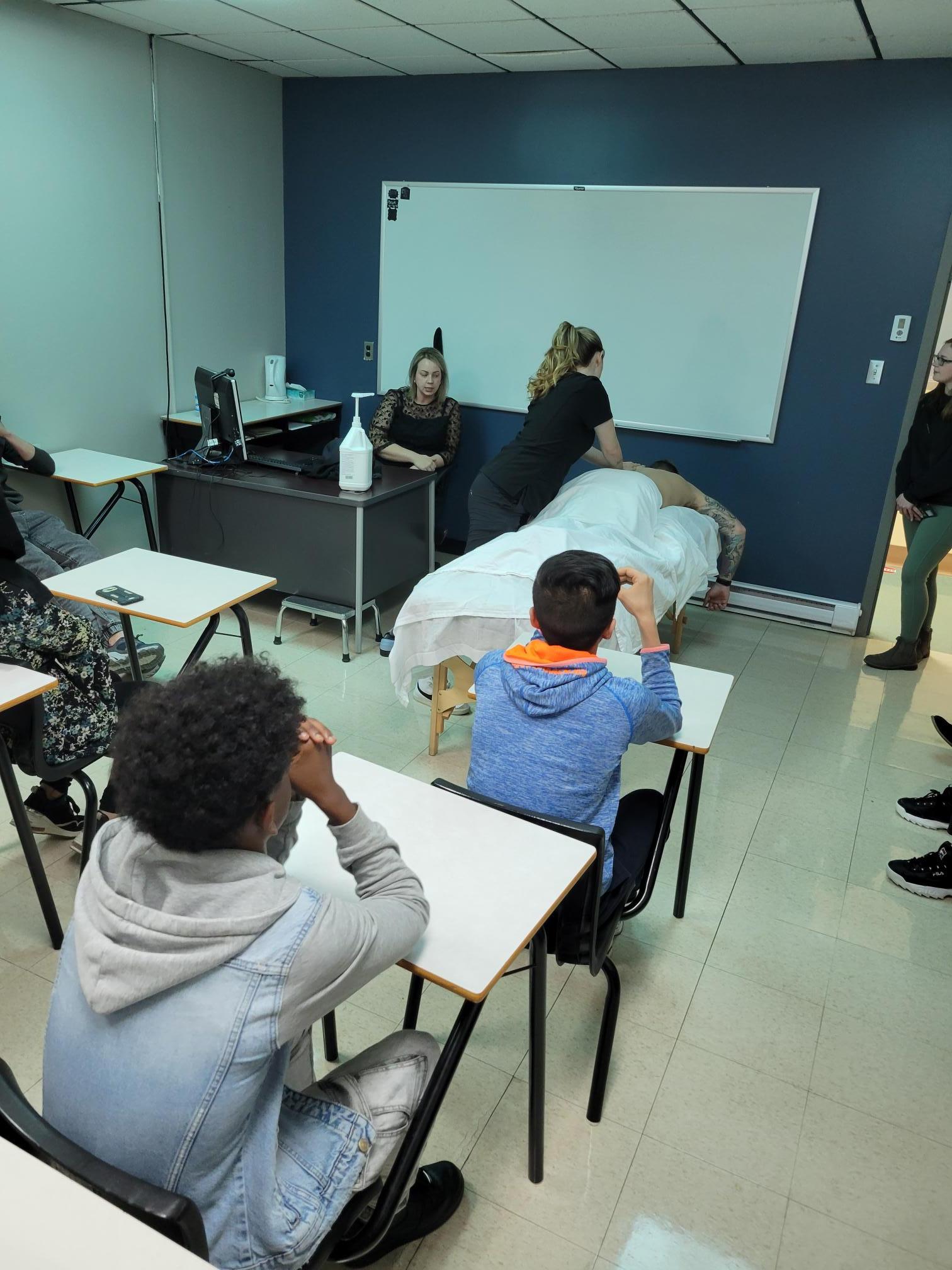 Massage Therapy students give a demonstration to high school students.
---
Graduate Spotlight – Braden Clarke
Posted November 4, 2022
Braden graduated from Academy Canada's Law Enforcement Foundations program in 2021. He had an excellent academic record: strong grades, perfect attendance and consistent feedback from his instructor describing him as a dependable and hard-working student who always displayed a positive attitude.
Despite his young age, Braden has already made a name for himself as a dedicated and hard-working member of his community.
He worked as a guard at the RCMP Whitbourne Detachment.
Braden also volunteered with the Whitbourne Fire Rescue Team and Army Cadets.
On October 29, 2022, Braden took an exciting next step in his career and left for the RCMP Academy in Regina, Saskatchewan to train to become an RCMP officer.
Academy Canada are so proud of your success, Braden!
There is no doubt that your work ethic and dedication to serving your community will lead to a successful career.
Best wishes at the next step of your adventure in Saskatchewan.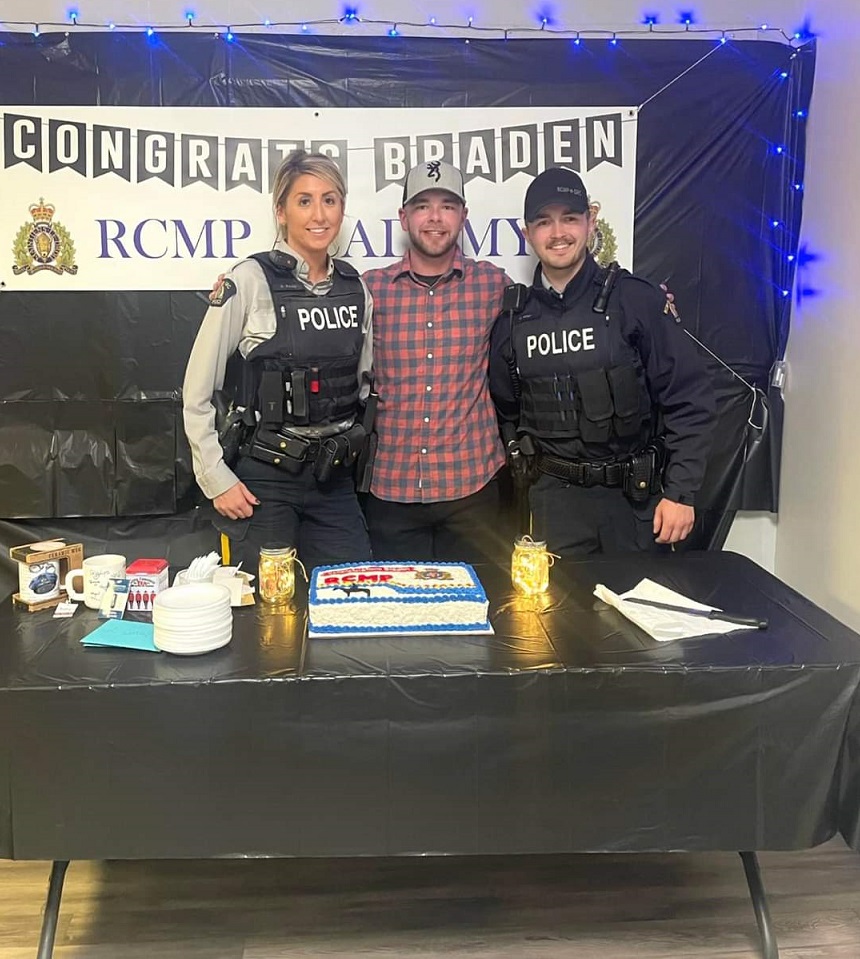 Braden Clarke (centre) during his RCMP Training Academy acceptance party.
Photo Credit: Royal Canadian Mounted Police in Newfoundland and Labrador
---
St. John's Campus "Esthetics and Spa Management with Electrolysis" Students Performed Manicures for St. Luke's Community Living Residents
Posted October 19, 2022
St. John's Esthetics students had a group of lovely residents from St. Luke's Community Living visit them for manicures.
Thank you to St. Luke's for arranging the visit and to our students and instructor for making the day special.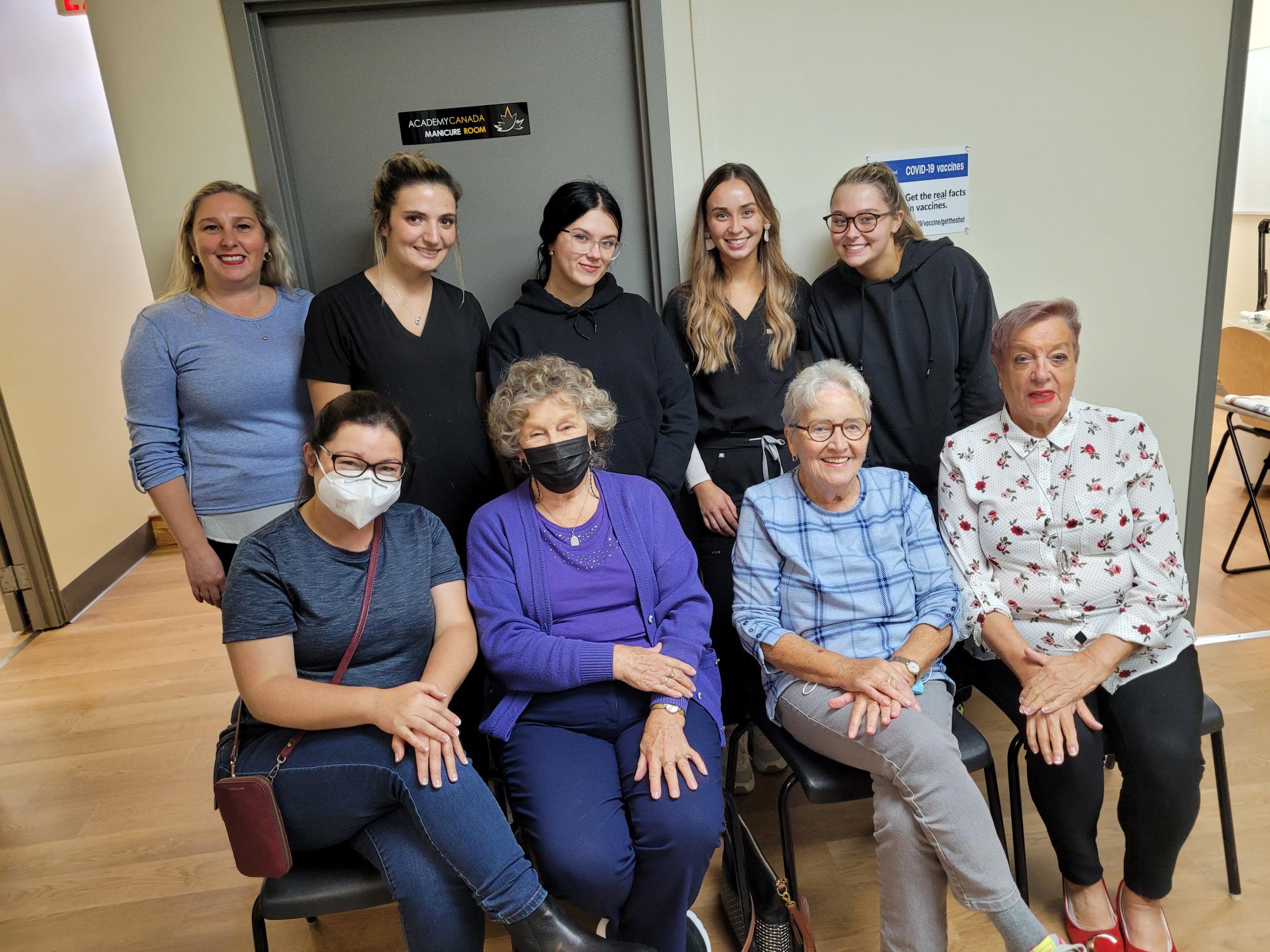 Esthetics students (back) performed manicures for the St. Luke's Community Living residents (front).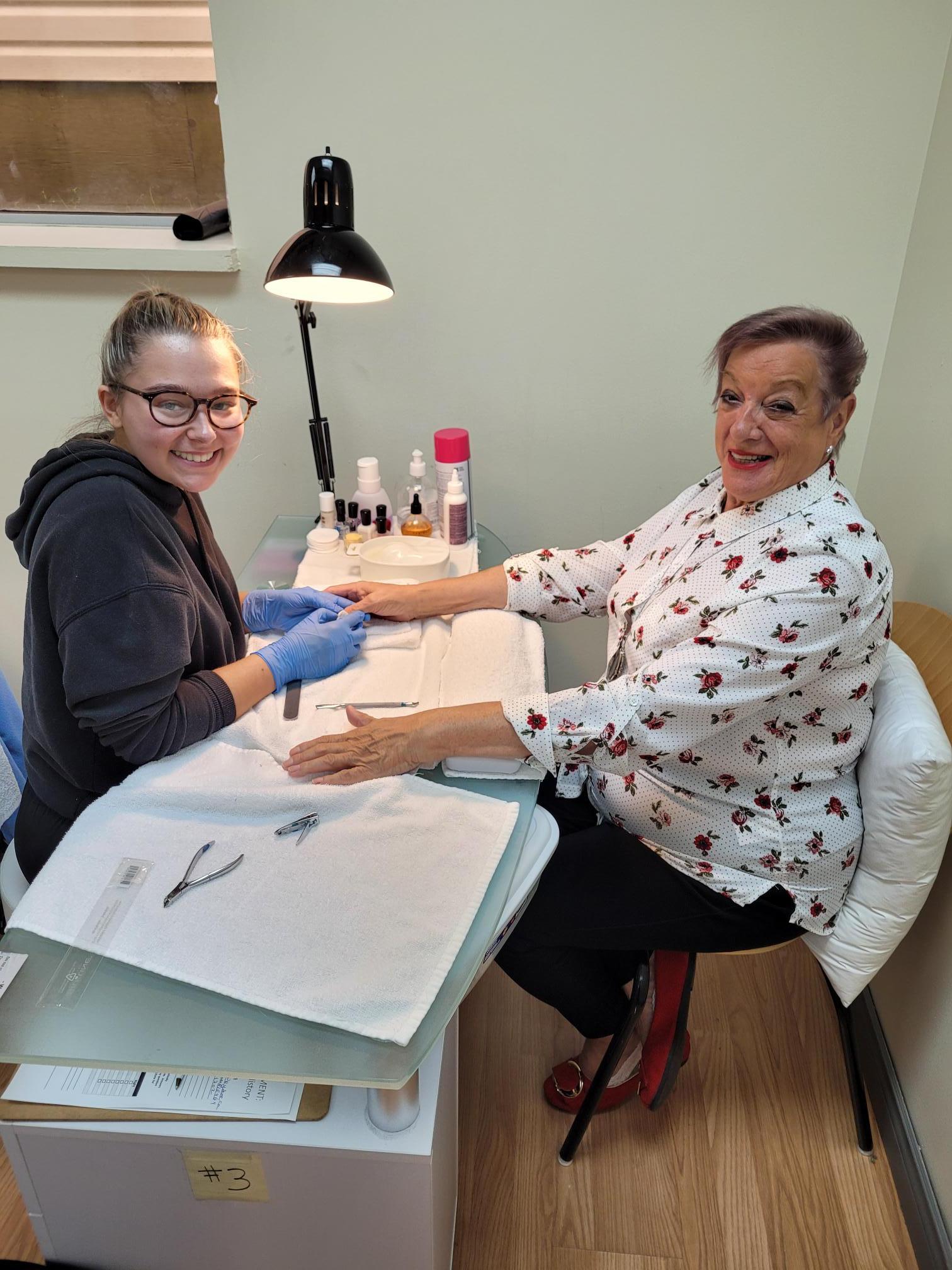 One of our Esthetics students performs a manicure to a St. Luke's resident.
---
Academy Canada "Graduate Services Team" Has Presence "My New St. John's Live Expo"
Posted October 17, 2022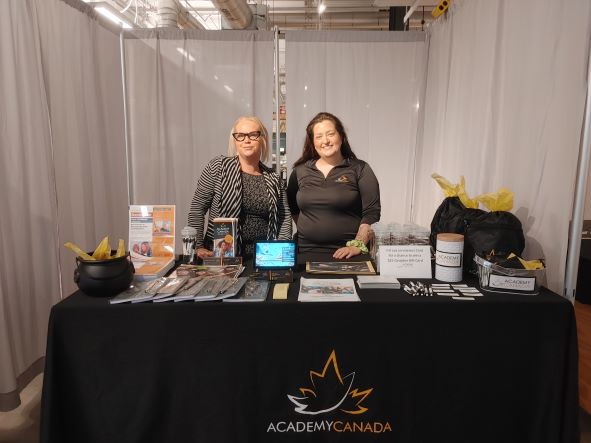 ---
St. John's Campuses Therapeutic Recreation Students Visit "Choices For Youth"
Posted October 4, 2022
During the week of September 25, 2022, our Therapeutic Recreation students (and amazing instructor Joanne) had a great site visit at Choices for Youth.
It is so important for Therapeutic Recreation students to be familiar with the programs and services available in their communities when they graduate, and we are always grateful for the opportunity to learn more about an organization by visiting and learning from their team.
We would like to send a special shout-out to Tania D'Aluisio-Tyler for sharing her passion and providing the students with so much insight into all the programs and services Choices for Youth has to offer.
Choices For Youth are an amazing organization.
Here's a link to learn more about them: https://www.choicesforyouth.ca/get-help.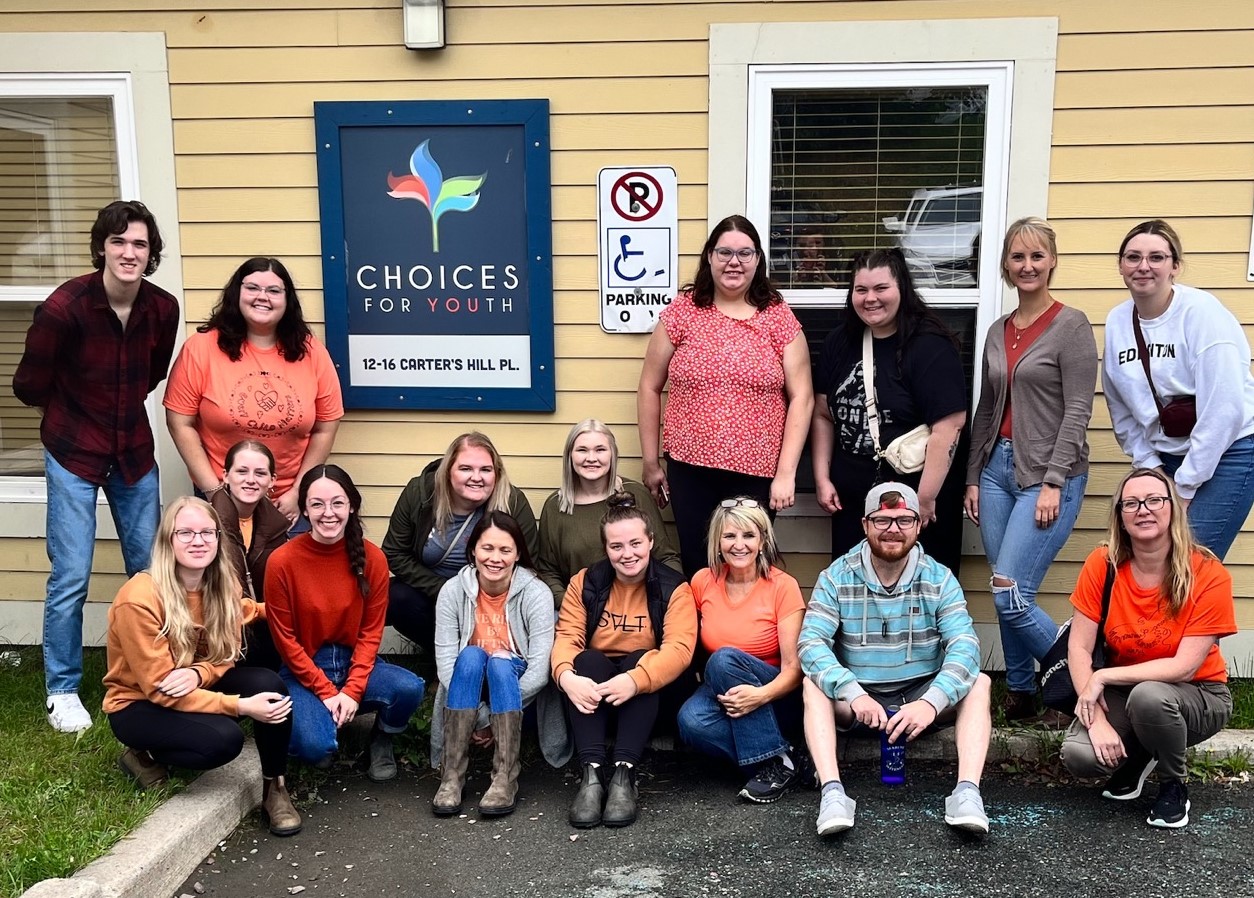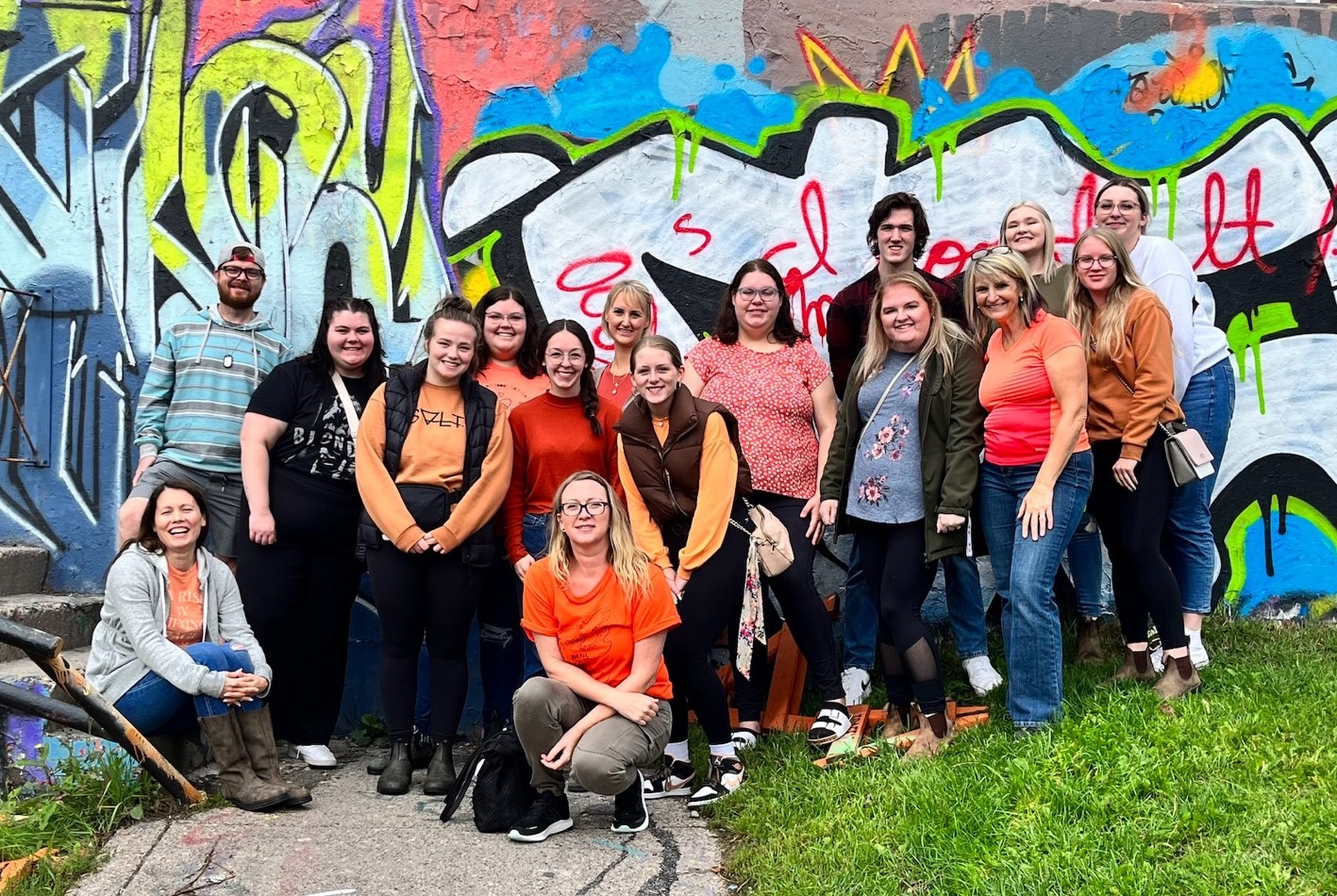 ---
Dr. Maggie Brown Bury Visits St. John's Campus
Posted October 4, 2022
On October 4, 2022, Dr. Maggie Brown Bury visited the St. John's campuses Veterinary Assistant/Receptionist Students.
Dr. Brown Bury operates a veterinary relief service across NL. She visited our students today to discuss strategies to prevent and deal with compassion fatigue as well as the importance of self-care in the Veterinary field.
Thank you for sharing your time and expertise, Dr. Brown Bury!!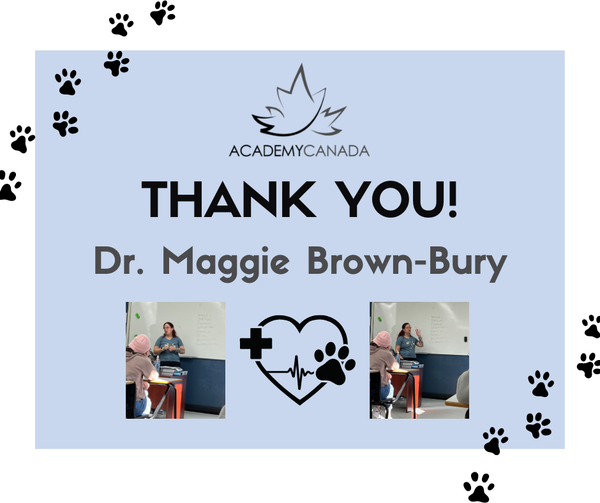 ---
Academy Canada "Orange Shirt Day" Pictures
Posted October 2, 2022
On September 29, 2022, Academy Canada staff members wore orange to commemorate "Orange Shirt Day", a public awareness campaign highlight the plight that indigenous Canadians endured during the native residential school era, and the trauma they still face today.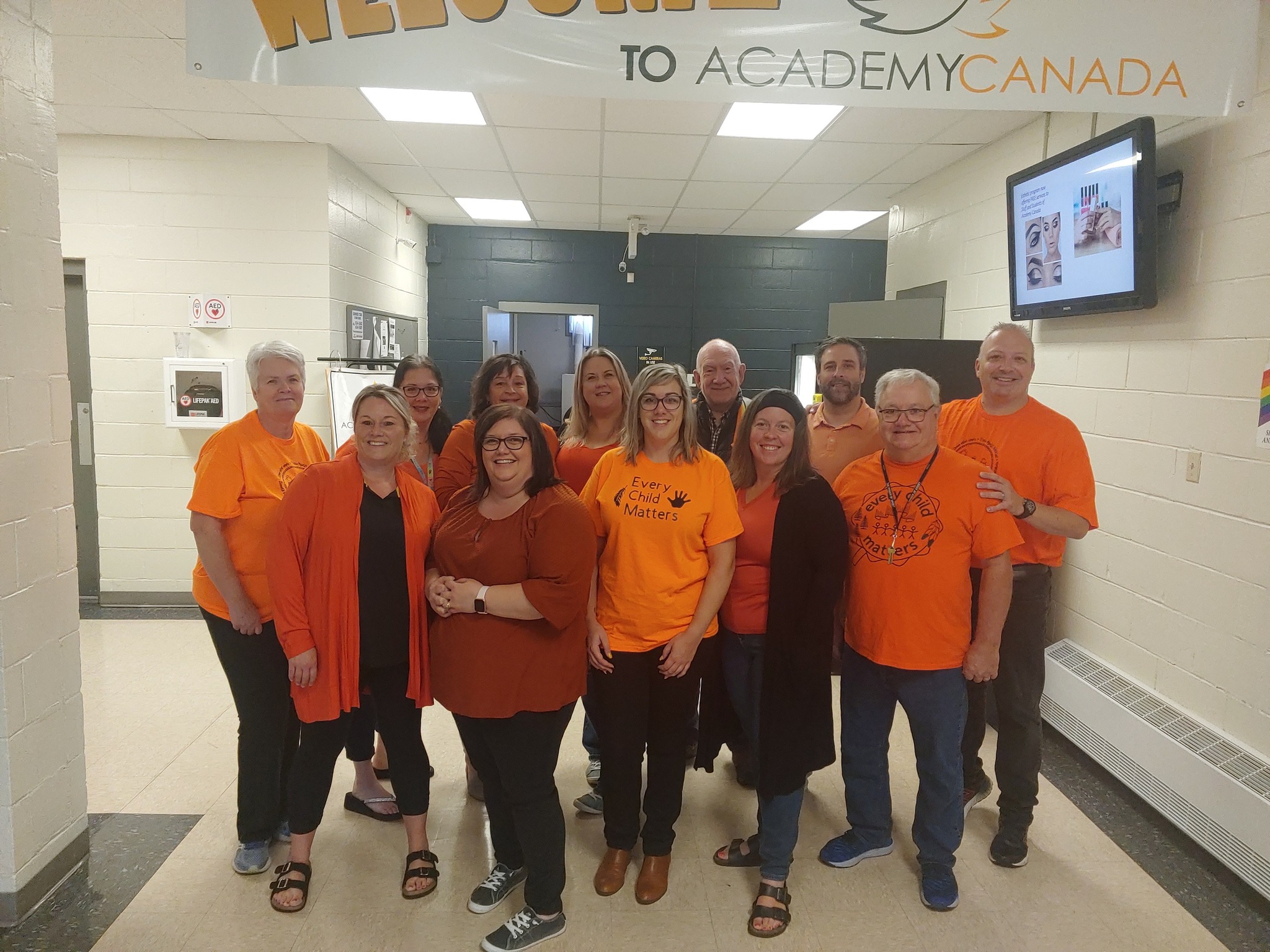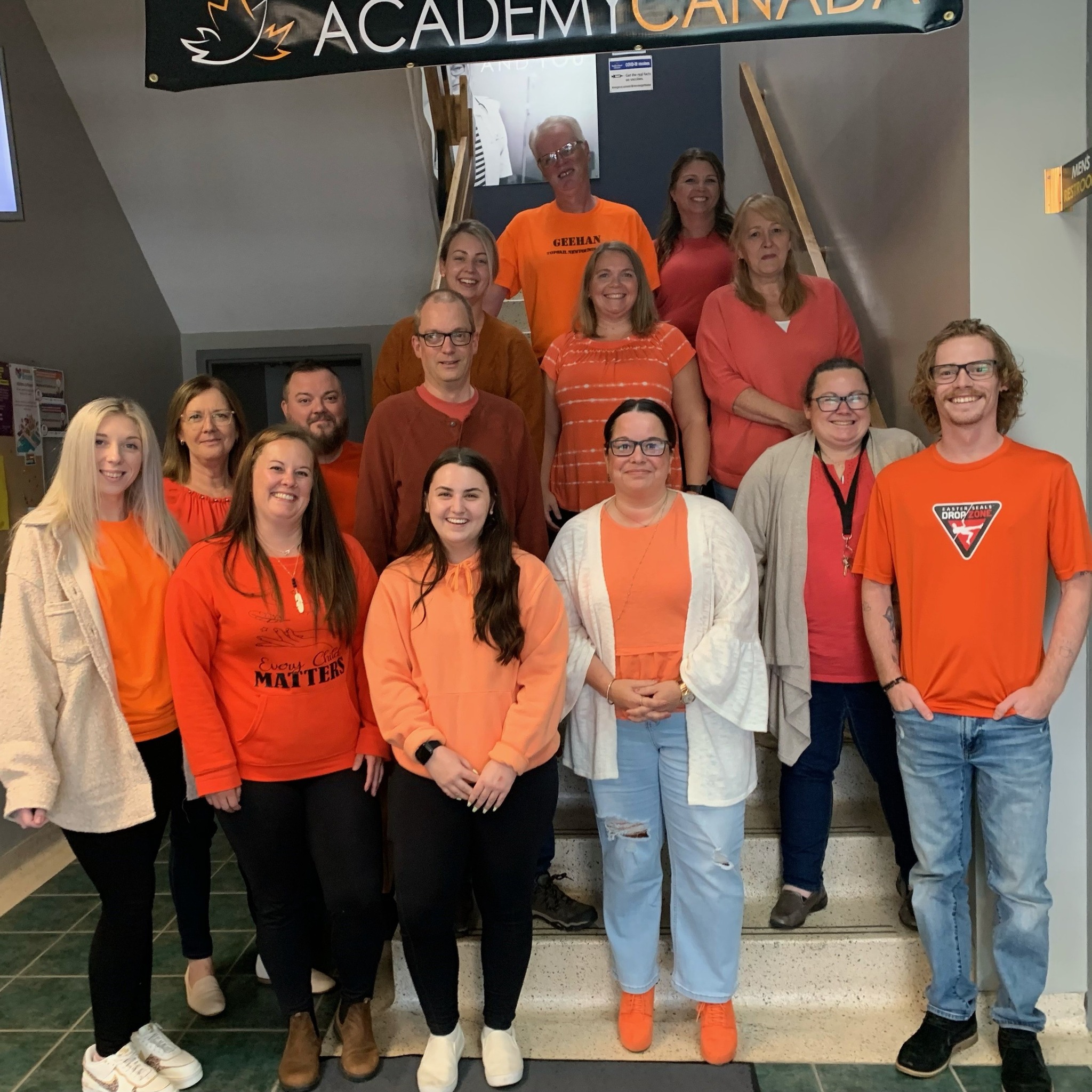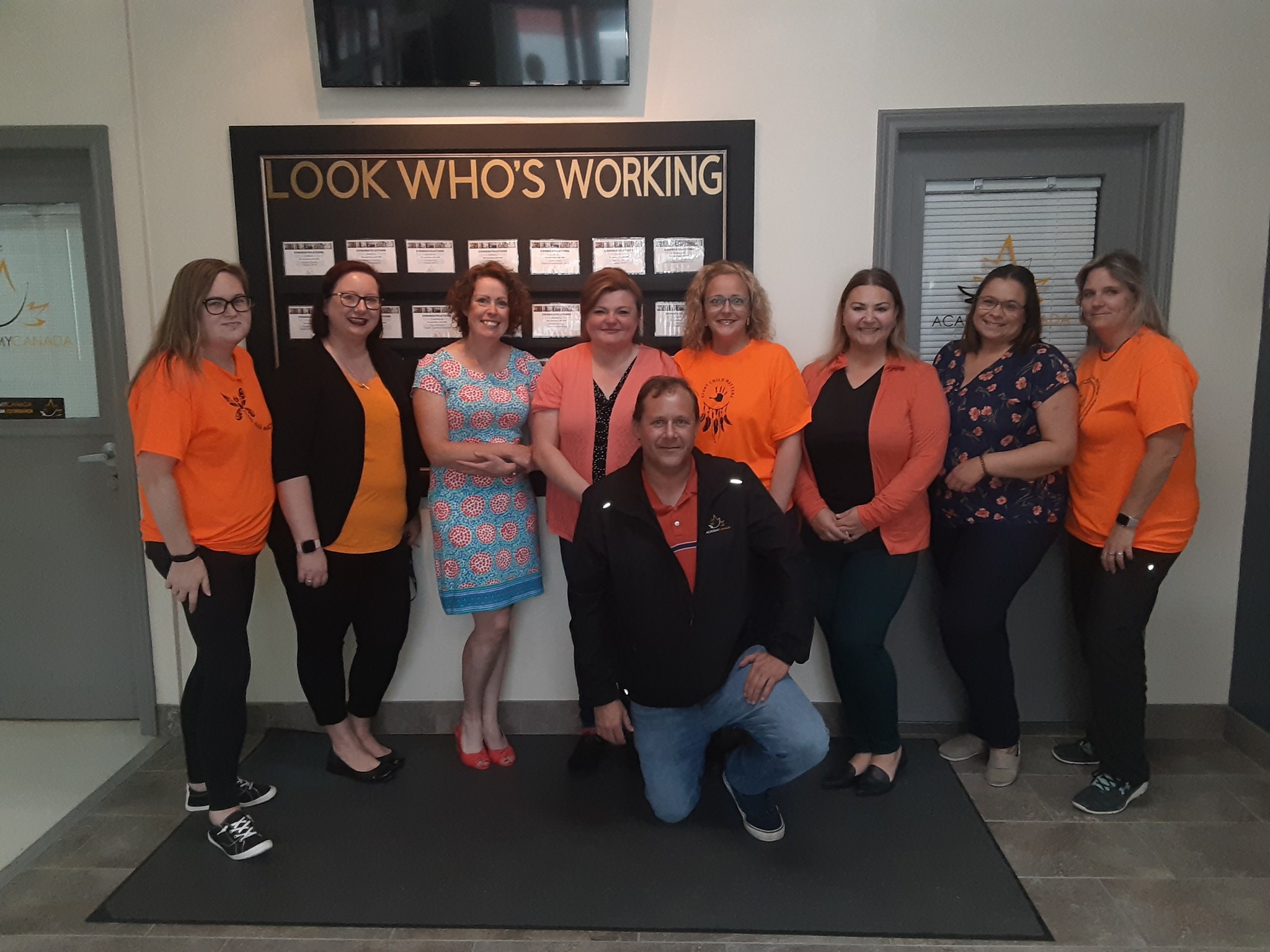 ---
Royal Newfoundland Constabulary Does Presentation At Corner Brook Campus
Posted September 27, 2022
Academy Canada thanks the Royal Newfoundland Constabulary Cst. Mosher and K-9 Kolt for presenting to our Corner Brook Criminology students on September 27, 2022!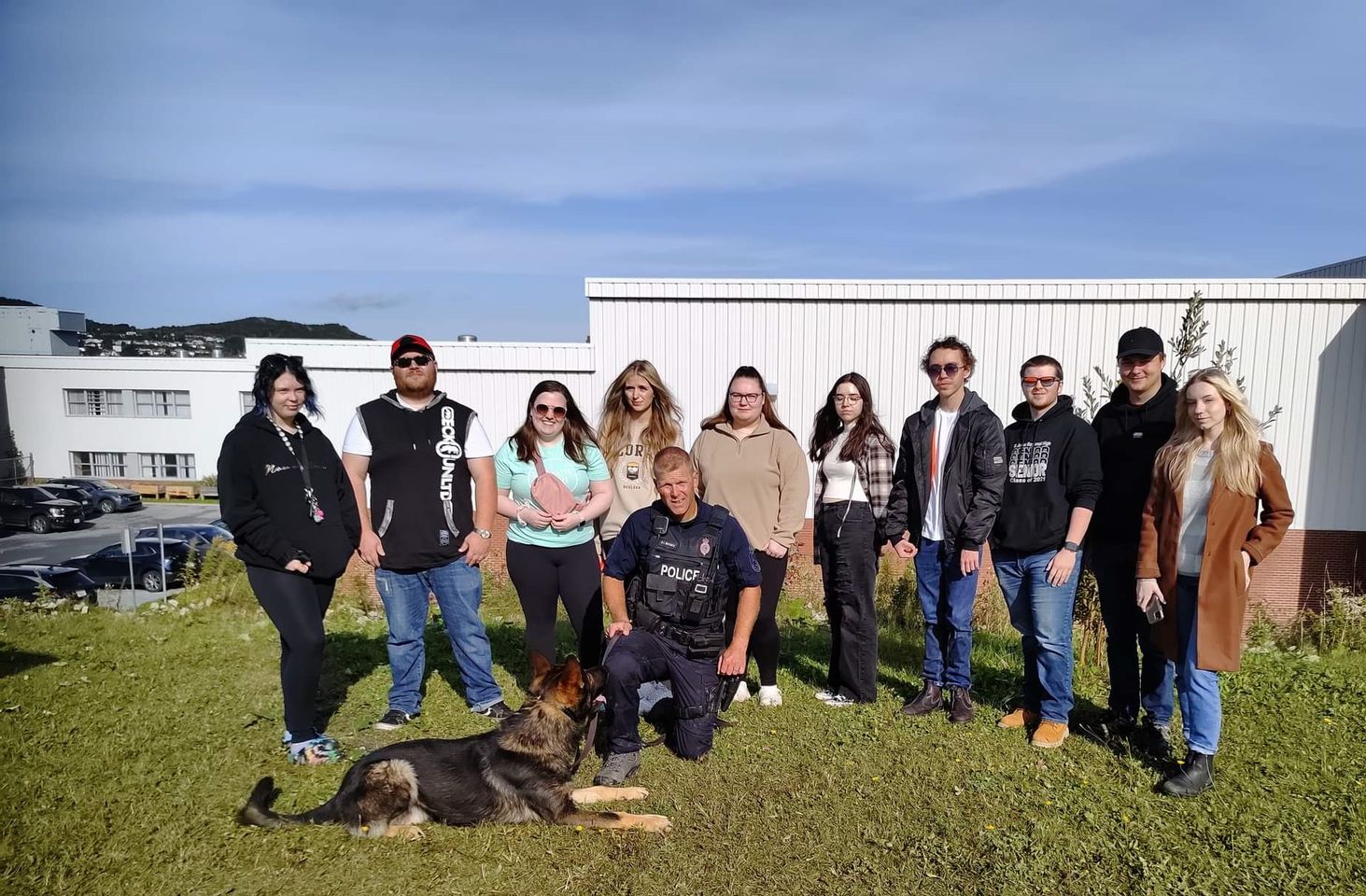 ---
St. John's Pride Parade – September 25, 2022
Posted September 26, 2022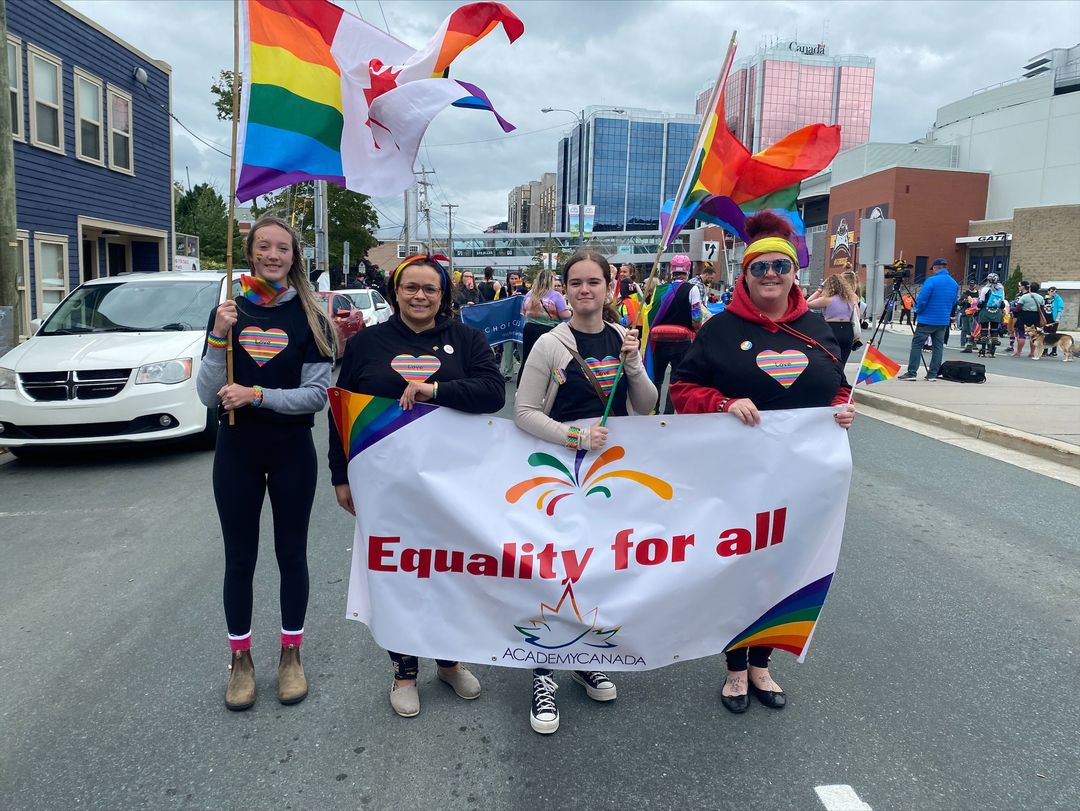 ---
"Not One More Vet" Does Virtual Presentation to Corner Brook Campus Students
Posted September 22, 2022
Academy Canada thanks Dr. Shannon Emmons for virtually visiting the Veterinary Assistant/Receptionist classrooms at our St. John's and Corner Brook campuses on September 21, 2022.
Dr. Emmons joined us from Maine, USA, for a guest lecture to discuss wellness in the workplace and emotional intelligence.
Dr. Emmons is a member of Not One More Vet (NOMV), a nonprofit support network of over 26,000 veterinary professionals.
NOMV provides peer support, mentorship, outreach and resources that help veterinary professionals thrive in their fields.
To learn more about "Not One More Vet", visit their website at https://www.nomv.org/.
On Thursday, May 18, 2023 the Students and Staff from both the Harding Road and Kenmount Road campuses attended Academy Canada's Convocation Ceremony. We had 241 graduates from 2022-2023 attend. Ms. Anita…
Read More