Hairstylist (Pre-Employment)
Duration:
34 Weeks plus 3 week work term. Click
here
for specific start dates.
Faculty:
Health and Personal Care
Certification:
Diploma of Vocational Education
Entrance Requirements:
Please click
here
Program Description
The 37 week Hairstylist (Pre-Employment) Diploma program is a provincially-accredited apprenticeship program that was developed by government and approved by the Provincial Apprenticeship and Certification Board. The program provides students with a wide range of skills that are needed to work as a first-year apprentice, including those related to safety, salon fundamentals, cutting and styling, hair color, chemical waving and relaxing, hairstyles and many others. Most courses are designed in such a way that students spend time divided equally between the classroom and hair salon. Upon successful completion of academic courses students will also take part in a 3 week work-term before graduating.
Please note that due to the nature of this career, employees are required to tolerate regular physical activity during the course of their work day. If you have any medical concerns, please contact your admissions officer to ensure you are aware of the requirements of the occupation and to determine if you are eligible for accommodations in this program.
Apprenticeship Training
The Hairstylist program is an apprenticeship trades program. Courses completed at Academy Canada meet the requirements to become a first-year apprentice. Once this training is completed and the graduate obtains their first position in the trade, they must register as an Apprentice with the Department of Education. After gaining sufficient experience, an apprentice is eligible for the interprovincial Journeyperson theory and practical exams. Passing these examinations will result in receiving Red Seal Certification.
Program Courses
Occupational Health and Safety
WHMIS
Standard First Aid
Safety-Related and Hygienic Functions
Tools and Equipment
Client Service Preparation
Communication Techniques
Front Desk
Hair and Scalp Analysis and Response
Shampoo and Condition Hair
Wet Hair Styling I
Wet Hair Styling II
Dry Hair Finishing and Styling I
Dry Hair Finishing and Styling II
Hair Cutting
Facial and Nape Hair Services
Colouring
Lightening
Chemical Waving
Chemical Relaxing
Colour Correction
Extensions, Wigs and Hairpieces
Face and Nape Services
Mentoring Techniques
Business Fundamentals I
Business Fundamentals II
Introduction to Essential Skills
Math Essentials
Hairstylist Math Fundamentals
Communication Essentials
Workplace Essentials
Computer Essentials
Introduction to Apprenticeship
Workplace Exposure
Employment Opportunities
Upon successful completion of the Hairstylist program, graduates may be eligible for employment (depending on specific hiring practices) as hairstylists in both male and female services. Opportunities may also be available in sales-related and personal grooming services. A small sample of Academy Canada's excellent employers include:
Hair Factory
Studio Maxx
Magic Cuts
Tangles
New Creations
Dawn's Unisex
Salon Fredrick's
Hairitage
Mr. Austins
Silver Scissors
Image Unisex
Bob's Beauty Salon
Uptown Hair Salon
Head First Salon
Hair Designers
Judy's Beauty Salon
First Choice
Peggy's Hair Design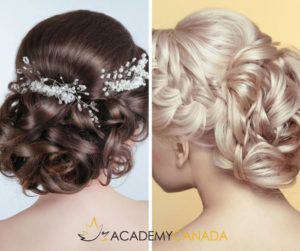 Wouldn't you love to be able to create a hairstyle as creative as this? Enroll in our Hairstylist (Pre-Employment) program and you can.
Posted November 5, 2023 Academy Canada are pleased to announce that we won the Newfoundland and Labrador Construction Association's (NLCA) "Professional Service Award of Excellence". These awards were given during the NLCA's…
Read More