Duration:
32 weeks plus 2 week work term. Click
here
for specific start dates.
Faculty:
Construction, Trades and Mining
Certification:
Diploma of Vocational Education
Entrance Requirements:
Please click
here
Program Description
The 9-month Cook (Pre-Employment) Diploma program is a provincially-accredited apprenticeship program that was developed by government and approved by the Provincial Apprenticeship and Certification Board. The program provides students with a wide range of skills that are needed to work as a first-year apprentice, including those related to safety and hygiene, vegetables, meats, fruits and nuts, rices and grains, seafood and desserts as well as many others. Most courses are designed in such a way that students spend time divided equally between the classroom and one of our professional kitchens. After completing the academic portion of the program students will complete a 2 week work-term under the supervision of a professional cook.
Please note that due to the nature of this career, employees are required to tolerate regular physical activity during the course of their work day. If you have any medical concerns, please contact your admissions officer to ensure you are aware of the requirements of the occupation and to determine if you are eligible for accommodations in this program.
Apprenticeship Training
The Cook (Pre-Employment) program is an apprenticeship trades program. Courses completed at Academy Canada meet the requirements to become a first-year apprentice. Once this training is completed and the graduate obtains their first position in the trade, s/he must register as an Apprentice with the Department of Education. Government will then cover the costs associated with regular advanced training as the apprentice gains experience and works towards completing their Journeyperson exam. Passing this examination will result in receiving Red Seal Certification
Program Courses
Occupational Health and Safety
Workplace Hazardous Materials Information System (WHMIS)
Standard First Aid
The Professional Cook
Health and Safety
Personal Hygiene and Kitchen Sanitation
Kitchen Tools and Equipment
Weights and Measures
Receiving and Storage
Basic Cooking Methods and Principles
Food Presentation
Vegetables and Fungi
Potatoes
Pulses, Grains and Nuts
Pastas and Dumplings
Fruits
Salads and Salad Dressings
Sandwiches
Stocks and Glazes
Soups
Sauces
Principles of Meat Cooking and Handling
Beef and Pork
Poultry
Fish
Seafood
Dairy Products
Breakfast Cookery and Eggs
Introduction to Baking
Bread Products
Cookies
Pies, Tarts, Flans and Fillings
Basic Cakes and Quick Breads
Introduction to Apprenticeship
Introduction to Essential Skills
Math Essentials
Cook Math Fundamentals
Communication Essentials
Workplace Essentials
Computer Essentials
Workplace Exposure
Employment Opportunities
Upon successful completion of the Cook program, graduates may be employed in restaurants, hotels, hospitals, and other health care institutions, central food commissaries, educational institutions, and other establishments. Cooks are also employed aboard ships and at construction and logging campsites. Students will gain valuable hands-on training throughout their program and will be ready for immediate entry into the work force upon graduation. A small sample of Academy Canada's excellent employers include:
Marriott Hotels
Glynmill Inn
Columbus Club
Red Oak Catering
Rufus Ginchard Health Center
Fairmont Hotels
Holiday Inn
Jingle Jims
Marble Mountain
Gitanos'
Discover where a job in the Canadian Armed Forces can take you!
The Cook program is recognized by the Canadian Armed Forced (CAF) as meeting the requirements for entering into a job in the CAF.
Students who graduate from the Cook program may receive advanced standing in the Canadian Armed Forces, which means a higher pay rate relative to CAF members who have not graduated from a CAF-recognized program.
Watch a video about the Cook occupation with the CAF and apply today!
Not convinced this career is for you? Learn more and watch this video!
Restaurants, hotels, hospitals, educational institutions, rehabilitation/long term care facilities, prisons, food trucks…what do they all have in common?
They all need Cooks!
If you're interested in an exciting and rewarding career that gives you the opportunity to work in a variety of environments, apply for our Cook program today.
Employer Testimonials
Our Cook graduates get rave reviews from various restaurants across the province.
Check out these testimonials from restaurant checks and owners below.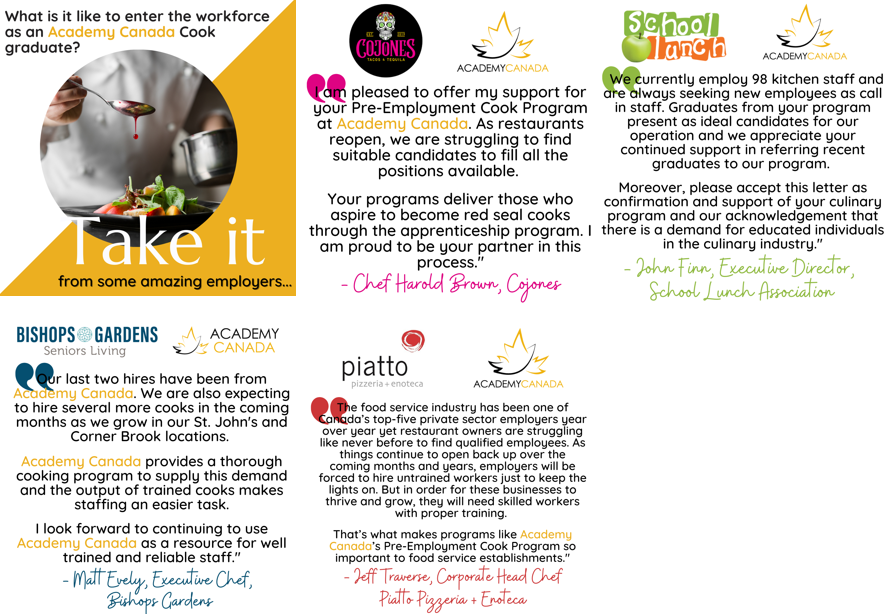 Posted November 5, 2023 Academy Canada are pleased to announce that we won the Newfoundland and Labrador Construction Association's (NLCA) "Professional Service Award of Excellence". These awards were given during the NLCA's…
Read More