Day in the Life: Veterinary Assistant and Veterinary Receptionist Edition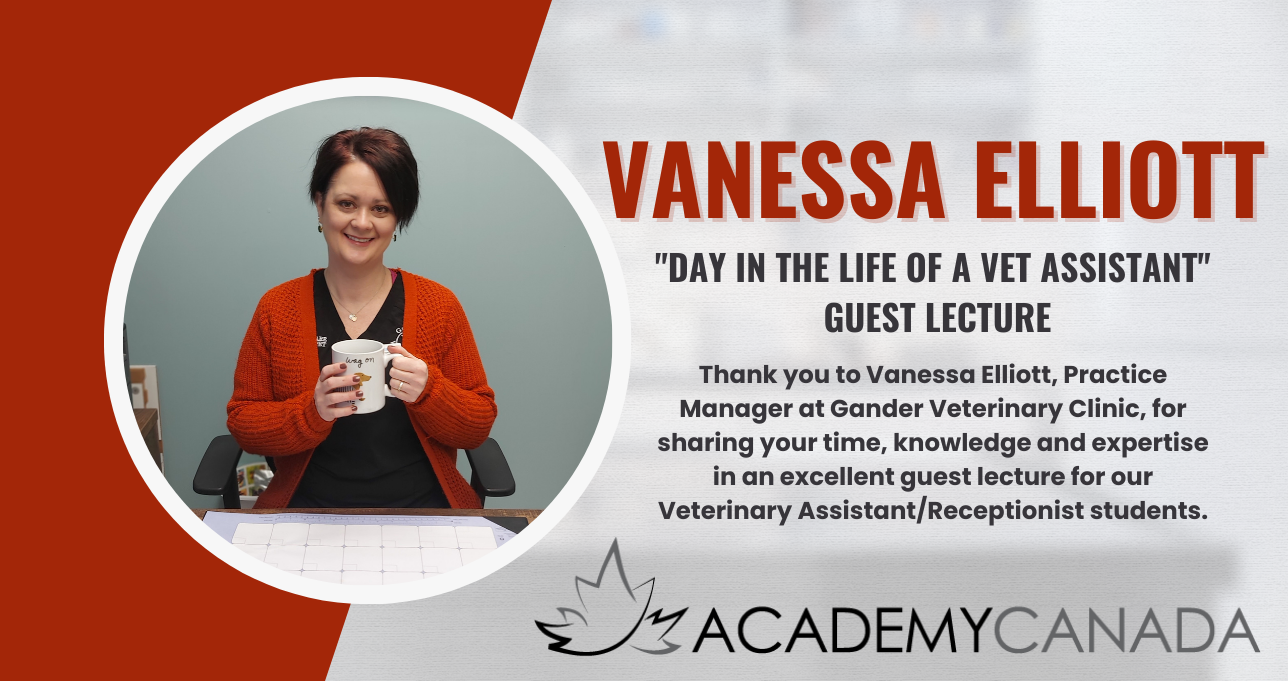 Thank you to Vanessa Elliott, Practice Manager at Gander Veterinary Clinic, for joining our Veterinary Assistant/Receptionist classroom to provide a guest lecture discussing "A Day in the Life" of Veterinary Assistants and Veterinary Receptionists.
Vanessa has had a lifelong love for animals and got her first experience in animal care in high school in a co-op program at her local veterinary clinic. After high school she went on to graduate from the Veterinary Assistant/Receptionist program and has since spent her career advancing through the ranks at Gander Veterinary Clinic to her current role of Practice Manager. She recounted the time she spent in the classroom where the students sat that day and shared her decades of experience and expertise since then to give them an idea of what the students can expect in their careers ahead. Here are some highlights from the lecture:
What does a "day in the life" look like for a Veterinary Assistant?
As the "right hand person" to the Veterinary Technicians and Veterinarians, Veterinary Assistants wear many hats. They can assist in exams by helping draw blood for bloodwork and holding the pet during exams. They can also assist in the operating room by drawing up sedation, preparing pets for surgery and transporting them to the OR. They can help place IVs and monitor anesthetic, all while doing physical checks during surgery. Beyond the incredibly important role of supporting each pet, Veterinary Assistants provide vital support to their families both in celebrations and in grief.
What does a "day in the life" look like for a Veterinary Receptionist?
The Veterinary Receptionist is often viewed as the face and voice of a clinic. Their days consist of everything from greeting patients and clients, to weighing animals, completing paperwork, checking clients in for surgeries, booking appointments, and supporting (human) clients in making decisions on animal nutrition and pet insurance. They are there to provide knowledge and support to the animal and human clients each day no matter what comes their way. Gander Veterinary Clinic sees upwards of 60-80 patients a day, and each one starts their visit with help from the Veterinary Receptionist.
Sharing the reality of animal care careers, Vanessa discussed the honor of being there for a pet throughout its life. She gave several examples of animals who she has cared for, including a dog she first met as a puppy, when she celebrated the puppy's first visit and nail trim with her owners. That puppy grew into the adolescent dog who later visited the clinic to get patched up after an adventure jumping over the fence. That adolescent dog was later back as a senior dog for a surgery and IV fluids, and Vanessa got to hand-feed her and clean her up when she couldn't do it herself. Finally, she was there for her one last time as an elderly dog when it was her time to pass on, and describes it as a "privilege" to help the animals she cares for go with dignity.
Beyond what to expect in their day-to-day life, Vanessa discussed the importance of self-care, team bonding, unwinding and having fun with coworkers for all veterinary staff when outside of the clinic. She emphasized how vital it is for students to take care of themselves and their coworkers so they can be there for each other during the easy and tough times. She also made sure the students know how important each role in a veterinary clinic is, and how they all rely on each other as a team to get the job done.
Thank you to Vanessa for sharing your knowledge with our students and giving them a glimpse at the rewarding career ahead of them!
Learn more about the Veterinary Assistant/Receptionist program here: https://www.academycanada.com/faculty-of-animal-care-and-nature/veterinary-assistant-receptionist/.